Two Brothers in the Icy Grip of Midlife
'The Snow Queen,' by Michael Cunningham
APRIL 27, 2014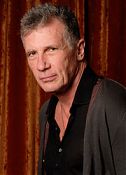 Michael Cunningham Credit Ulf Andersen/Getty Images
Continue reading the main story
By MICHIKO KAKUTANI
Michael Cunningham's resonant new novel, "The Snow Queen," takes its title from the Hans Christian Andersen fairy tale of the same name about the redemptive powers of love and its ability to melt even the chilliest of hearts.
Unlike his acclaimed 1998 novel, "The Hours," which worked a series of inventive variations on Virginia Woolf's "Mrs. Dalloway," however, this latest book has only the most tangential relationship to the Andersen tale. (The hit Disney movie "Frozen" hews considerably closer to the original.) Mr. Cunningham's "Snow Queen" takes little more than its central theme and wintry imagery from the original fable to create a contemporary story about familial and romantic love — love lost and found.
The result is arguably Mr. Cunningham's most original and emotionally piercing book to date. It's a novel that does not rely heavily on literary allusions and echoes for its power — a story that showcases the author's strengths as a writer and few of his liabilities, while creating a potent portrait of two brothers and their urgent midlife yearning to find some sense of purpose and belonging.
Photo
Triads and triptychs seem to exert a special hold over Mr. Cunningham's imagination: "The Hours" and "Specimen Days" (2005) both featured three stories linked by shared themes and motifs; and the stories in "Specimen Days," like the novels "A Home at the End of the World" (1990) and "By Nightfall" (2010), pivoted around three central characters. The same is true of "The Snow Queen," which focuses on the lives of a 38-year-old man named Barrett, who works in a vintage clothing store and who has just been dumped by his latest boyfriend; his older brother, Tyler, a musician with little to no following, and a secret drug habit; and Tyler's ailing girlfriend, Beth, who has received a diagnosis of Stage 4 cancer. Around this three orbit a motley, sometimes shifting group of friends, lovers and colleagues, who together form a small Brooklyn solar system that Mr. Cunningham charts with sympathy, humor and psychological precision.
The novel begins with Barrett having a vision — or a mystical experience — in Central Park one snowy evening in 2004: At first he thinks it's a "freakish southerly appearance of the aurora borealis," then it seems like something more metaphysical, like "the eye of God" looking down at him. After Googling "every possible malady (torn retina, brain tumor, epilepsy, psychotic break) that's presaged by a vision of light," he starts brooding over its meaning. Has he become one of those people who see U.F.O.'s and apparitions? Has the experience somehow changed him? Does it portend something good or ill? He decides not to tell his brother about what he's seen: He "isn't ready for Tyler's skepticism, or his valiant efforts at belief. He's really and truly not ready for Tyler to be worried about him."
As in earlier Cunningham novels, there is something faintly incestuous about the relationship among Barrett, Tyler and Beth; the down-and-out Barrett has moved in with his brother and had been helping care for the gravely ill Beth — they were her attendants; they were Team Beth. Tyler adores Beth, and Barrett feels much the same way, "though he does so because Tyler does." Later, when Beth begins to make a seemingly miraculous recovery that may or may not be lasting, Barrett will wonder if his vision — his close encounter with whatever — somehow played a role in her dramatic turnaround.
The brothers have been close since their mother's sudden death (golf, lightning) years ago. These motherless boys, so gifted in their youth, have become middle-aged without ever quite finding their vocations or making a go of their talents. Barrett, "who'd seemed for so long to be the magical child," developed an array of "languid capabilities (he can recite more than a hundred poems; he knows enough about Western philosophy to do a lecture series, should anyone ask him to"), but never "the ability to choose, and persist." Tyler, blessed with "athletic ease" and a "singular gift for music" as a boy, has become, at 43, "an unknown musician," tending his dying girlfriend in a dingy apartment with slanting floors in the depths of ungentrified Bushwick.
There are fewer patches here of the self-conscious, purple prose that bogged down earlier novels like "Flesh and Blood" and "Specimen Days." Mr. Cunningham seems to have harnessed his more sentimental inclinations, and instead of piling poetic phrases one on top of another to evoke his characters' predicaments, he artfully allows the reader direct access to their hearts and minds by using his gift for empathy and his own brand of stream of consciousness (enhanced perhaps by his study of Woolf in writing "The Hours"). He gracefully delineates Tyler and Barrett's family history, the often different ways the brothers have processed their common past, and the shared and withheld secrets that have defined their fraternal bond over the years.
At the same time, Mr. Cunningham provides an impressionistic portrait of Brooklyn, circa 2004, and the East Village, some four years later, as America shifts gears from the George W. Bush era to the "change election" of 2008. These snapshots attest to his ability to give us an intimate sense of his characters' daily lives, while situating their hopes and dreams within the context of two moments in history already slipping by.
THE SNOW QUEEN
By Michael Cunningham
258 pages. Farrar, Straus and Giroux. $26.