The New York Times
July 18, 2013
Soul-Searching Across America
By KEN JOHNSON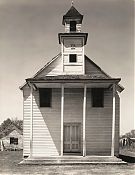 In 1938, the Museum of Modern Art mounted its first solo photography exhibition, a display of 100 pictures by Walker Evans (1903-75) bearing the flatly declarative title "American Photographs." In the show were images of sharecropper families in the South for which Evans is still best known. Among them was "Alabama Cotton Tenant Farmer Wife" (1936), the close-up portrait of a thin-lipped young woman against a background of weathered clapboards, a magnetic, 20th-century Madonna. People from other walks of life were represented as well: the young couple in a sleek convertible car looking quizzically back at the camera; the tall, urbane black man sporting a white suit and straw boater.
As poetically loaded as any of his portraits were his laconic, frontally framed images of rural churches, farmhouses, urban tenements, ornate building facades, main street storefronts, barber shops and factories. The camera in Evans's hands was more than just a machine for making pictures. It was a device for seeking out the soul of America, and though his subjects have receded into the past, his images still exude a powerfully affecting pathos, an infectious longing for something spiritually real and true.
So it is a fine thing that MoMA is presenting a 75th anniversary reprise of the show with a display of more than 50 prints from the original body of work. Along with it comes a new, fifth edition of the catalog, a volume whose elegantly simple design has made it a classic for photography-book lovers. It includes an extraordinarily perceptive and passionately written essay by Lincoln Kirstein. Together, the show and the book add up to a wonderful time capsule from a dark period in United States history. But they also reverberate now in a time when the idea of America is subject to debates as fractious and far-reaching as at any time since the Civil War.
Organized by Sarah Hermanson Meister, the museum's research and collections curator, and Drew Sawyer, a curatorial fellow in the photography department, the show is installed in the midst of the fourth-floor permanent collection galleries. There it resonates with mid-20th-century works in adjacent rooms that epitomize American art coming into its own. There are Abstract Expressionist paintings by Pollock and de Kooning on one side; proto-Pop works by Johns and Rauschenberg on another; and Pop Art pieces by Warhol, Lichtenstein and Rosenquist on a third.
The America Evans was exploring was not the one he came from and lived in. Born into an affluent family, he went to Phillips Academy in Andover, Mass. and put in a year studying French literature at Williams College before dropping out. He spent another year in Paris in 1926 taking classes at the Sorbonne and learning about modern art. Back in New York, he hung out with a literary crowd that included John Cheever, Hart Crane and Kirstein. He worked as a Wall Street stock clerk, as a photographer for the New Deal's Farm Security Administration, as a staff writer for Time magazine and, from 1945 to 1965, as an editor at Fortune magazine.
The place evoked by Evans's photography was a mythic realm, a ghost world. Social justice wasn't his overriding concern, though many of his images are implicitly political. He was less interested in modern life than in what modernity was leaving in the dust, as in "Joe's Auto Graveyard, Pennsylvania" (1936), a wide-angle view of dozens of derelict cars in a grassy field. He found heroic dignity in old buildings like "Negro Church, South Carolina" (1936) a small, wood-frame structure with a boxy steeple and a shallow, neo-Classical front porch.
As a photographer, he resisted modernizing trends toward abstraction and new kinds of technical wizardry. He didn't make a fetish of the fine-art print. His aim was to get out of the way of his subjects, to let them speak for themselves. The things in his pictures seem to have inner lives, like people. As they do in many of Edward Hopper's paintings, old buildings in Evans's pictures have an uncanny interiority, as if they were conscious beings. His ostensibly objective style lightly veils feelings of identification with the overlooked, the passed-by and the outcast.
The idea of America was much on the mind of intellectuals when Evans began making photographs in the late 1920s. Alfred Stieglitz called the gallery he opened in 1929 An American Place, and American Scene painting was ascendant. Embracing conservative Regionalism on the one hand and left-leaning Social Realism on the other, that populist movement was largely a reaction to the invasion of American art by European Modernism.
Evans wasn't an anti-Modernist reactionary. Among his most important inspirations was the French photographer Eugène Atget, whose haunting, documentary photographs of Parisian architecture were admired by European sophisticates. But like many of his contemporaries, Evans was looking for a bedrock foundation for American sensibility.
He was drawn to what the writer Greil Marcus called "The Old, Weird America," to a vernacular culture untainted by the fancy taste of high society or the predilection for kitsch of masses. He sought the genuine in, as Kirstein put it, "an epoch so crass and so corrupt that the only purity of the ordinary individual is unconscious."
Maybe Evans also was looking for something real and true in himself, something deeper, older and more solid than the trappings his privileged class and education gave him. For all their just-the-facts plainness, there's a dreamlike quality to his images, as if they'd floated up from the depths of America's collective unconscious into his personal creative psyche. That's one way, at least, to explain what makes them still so mysteriously gripping.
"Walker Evans: American Photographs" continues through Jan. 26 at the Museum of Modern Art, (212) 708-9400, moma.org.