The New York Times
September 27, 2012
Loud, Proud and Painted
By ROBERTA SMITH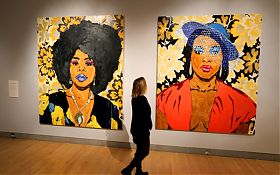 Mickalene Thomas's brash, exuberant paintings don't care what you think of them; they are much too busy simply — or not so simply — being themselves. Their sense of independence is driven home by this artist's invigorating exhibition at the Brooklyn Museum, along with the realization that the museum's populist program sometimes hits the nail on the head.
Organized by the Santa Monica Museum of Art in California, and substantially expanded in Brooklyn, "Mickalene Thomas: Origin of the Universe" is a show of broad appeal, free of dumbing down. It has examples of the large, color photo-portraits and clusters of the small, truculent collages that function as studies for Ms. Thomas's paintings while being works of art themselves. But it is dominated by her big, collagelike paintings, which often depict voluptuous, imperious black women amid swaths of brightly patterned fabrics. The unabashed visual richness of these works attests to the power of the decorative while extending the tenets of Conceptual identity art into an unusually full-bodied form of painting. Enhanced by burning colors; outrageously tactile, rhinestone-studded surfaces; and fractured, almost Cubist perspectives, these images draw equally from 19th- and 20th-century French modernism, portrait painting, 1970s blaxploitation extravagance and an array of postwar pictorial styles.
In all, Ms. Thomas's portraits, reclining odalisques and figure groups, and also her cacophonous landscapes and more sedate interiors cover many bases: aesthetic, political, art-historical and pop-cultural. Their sheer complexity makes them seem close to self-sufficient, secure in their ability to reach most viewers on one wavelength or another. They set the eye and brain whirring, parsing subversive meanings and quotations, skipping among mediums and savoring the contrasting surface textures, which include slatherings and smooth, enamel-like finishes and thin, brushy strokes.
Above all, these works convey a pride of person that gives any viewer — not only women — an occasion to rise to. It should be noted, however, that the show's title wickedly plays on "The Origin of the World," the title of Gustave Courbet's notorious 1866 painting of a naked female crotch, expanding its scope from the merely planetary to the intergalactic. More to the point is the effrontery with which the works on view — including two versions of this particular Courbet — confound narrow ideals of beauty and taste while subverting the male gaze and broadening the possibilities of painting.
The show gets off to a fast start with Ms. Thomas's 24-foot-wide reprise of "Le Déjeuner sur l'Herbe," Édouard Manet's masterpiece from 1863, a work known for its central threesome of a pale-skinned nude woman and two clothed men picnicking in a woodland setting. In Ms. Thomas's fabulously garish version, "Le Déjeuner sur l'Herbe: Les Trois Femmes Noires," the group is replaced by three glamorous black women, lavishly made up and bewigged and wearing slightly skimpy party attire. They are surrounded not by nature but by piles of textiles that contrast the exotic and the everyday — from homespun red gingham to leopard patterns and haut ancien régime. The image is fractured like a cracked mirror — or history broken and reassembled — and is at once intimate and massive, like an obsessively handmade billboard.
On the other side of the wall holding this work hangs a similarly large and powerful reprise of Courbet's 1866 "Sleep." Ms. Thomas has translated its pair of embracing women — a blonde and a brunette — into a dark-skinned black woman and a light-skinned one, transporting them from a silken bed to an Edenic landscape whose fault lines are highlighted in fluorescent orange.
At 41, Ms. Thomas might be called a precocious late bloomer. In age, she belongs to a generation of courageous artists who emerged mostly in the 1990s to explore black identity without stinting on innovation — among them Glenn Ligon, Chris Ofili, Ellen Gallagher and Kara Walker. But Ms. Thomas, who was born in Camden, N.J., and lives in Brooklyn, has been exhibiting for only six years. Although interested in art since childhood, she set out to be a lawyer and segued into painting when she was in her 20s and living in Portland, Ore., where she had moved to get some space after coming out as a lesbian to her mother.
Returning to the East Coast, she earned her bachelor's in painting from Pratt Institute in Brooklyn in 2000 and her master's two years later from Yale, where she arrived an abstract painter and left a figurative one, thanks largely to a suggestion that she take a photography course. She starting photographing her mother, then other family members, then friends and lovers. Soon she was converting those pictures into collages and paintings. Her gallery debut took place in Chicago in 2006, followed by one in New York in 2009.
The Brooklyn Museum show concentrates almost exclusively on work from 2010 and later, when a look at her development over the past decade might have better served her art and its audience. But Ms. Thomas's work has strengthened noticeably since 2010, and this exhibition captures some of its momentum. (The show was assembled for the Santa Monica Museum by its former deputy director, Lisa Melandri, and adjusted for the Brooklyn Museum by its curator of contemporary art, Eugenie Tsai.)
Instead of Ms. Thomas's development, the show highlights her elaborate working process, revealing the progress of various images from photographs to collages to paintings. Also on hand are four examples of the densely furnished living room sets that Ms. Thomas uses for her photo shoots. Their amazing patchworks of fabric, wallpaper and fake wood paneling emphasize the extent to which she relies on, but also transforms, reality with her sense of color, light and surface (although one or two sets would have made the point and left more space for paintings).
The show steps back further with a touching 23-minute documentary that Ms. Thomas made this year about her mother, who is in some ways the origin of the notions of black beauty so central to her art.
The catalog essays dwell excessively on Ms. Thomas's revisions of French painting, and to a certain extent they are justified. Her quotations are notable for going beyond mere one-liner mimicry or conceptual appropriation; they radically de-Europeanize and contemporize their sources, as Roy Lichtenstein did with his Pop Art versions of Matisse's "Dance," only more so. But this doesn't do justice to Ms. Thomas's omnivorousness. She has been inspired by a range of black artists, including the Conceptual photographer Carrie Mae Weems, the painters Jacob Lawrence and William H. Johnson, and of course that genius of collage Romare Bearden.
From a foundation of Pop Art, Ms. Thomas resuscitates and extends movements like Photo Realism, New Image Painting and Pattern and Decoration. (Her big portraits, especially, would have enlivened the predictable Warhol show at the Metropolitan Museum of Art.) She fuses the strategies of the photo-based work of the Pictures Generation and the collage-prone art of its loyal opposition, the Neo-Expressionist painters, much the way David Salle did, but with a more urgent and specific message. In this regard she can be compared not only to Jean-Michel Basquiat but also to the German painters who emerged in the 1970s, especially Jörg Immendorff, whose freewheeling satirical paintings about his country's Nazi past and its postwar division had a similar sense of necessity.
As a black woman who loves women, Ms. Thomas is in a double bind, and she makes the most of this in order to transcend it. Through the scale and material capaciousness of painting, she celebrates, decorates and really venerates the black female body by making it and its lavish surroundings bracingly tangible. She doesn't so much depict a universal humanity as practically force it into the viewer's place, where it implicates, illuminates and bedazzles.
Where Ms. Thomas goes from here will be interesting to see. Her interiors seem slightly routine, although a jangling one of Monet's yellow dining room is marvelous. Her landscapes, whose piled forms borrow from Cézanne and David Hockney, improbably muster much of the vehemence of her figurative works, demonstrating the inspiring notion that any tradition can be wrestled into a new, undeniably pertinent form of expression. All it takes is that the right artist get her hands on it.
"Mickalene Thomas: Origin of the Universe" runs through Jan. 20 at the Brooklyn Museum, 200 Eastern Parkway, at Prospect Park; (718) 638-5000, brooklynmuseum.org.
More in Art & Design (3 of 51 articles)
Painting, Rebooted
Read More »