Stockholm Cool Meets the Big Gay American West: ACNE x Bruce of Los Angeles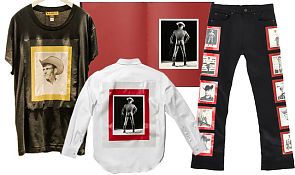 Acne x Bruce of Los Angeles
Courtesy ACNE
by Nicholas Remsen
Published: May 17, 2013
Nothing like a little vintage homoerotica to raise an eyebrow, especially if those in the buff posed as far back as the conservative 1940s. Such was the mission – and legacy – of Bruce Bellas, the photographer more commonly known as Bruce of Los Angeles.
The Nebraska native began his professional life as a chemistry teacher, of all things. But in 1947, Bellas relocated to L.A., where he started snapping bodybuilders in increasing states of undress. His oeuvre grew and he began to define the mid-century beefcake — framing men both physically raw and visually provocative, inadvertently creating a new category in art's ever-expanding matrix: the fifties physique.
Moreover, the photographer helped usher in a brave new era of masculinity, nude or otherwise – catalyzing a graduation from the vanilla to the explicit, à la Robert Mapplethorpe. In 2001, New York Times art critic Holland Cotter wrote, "Mapplethorpe was virtually a Bruce creation, and artists like Cindy Sherman are almost certainly beneficiaries of his prop-wielding, icon-busting wit." While Sherman didn't necessarily dabble in birthday-suited gents, her work typically tackles gender issues in some way, shape, or form.
Yet Bruce of Los Angeles had a more private and buttoned-up side – a facet that Stockholm's ACNE Studios has capitalized on in the book "Bruce of Los Angeles Rodeo," a spectacularly juxtaposed collaboration between slick Swede cool and big gay American West. You see, Bellas shot a parallel series of work in addition to all the nakedness, specifically a selection of bona fide cowboys caught in off moments between bull-riding and bronco-busting. Considered the artist's most personal work, the photographs elucidate a more complex view of modern masculinity. Curated by New Yorker critic Vince Aletti, the 192-page tome is a fitting testament to all things Bruce, laid out in typical ACNE minimalism (if you've never read ACNE Paper, pick it up ASAP from your local import mag shop).
Additionally, the images are forever grafted to the Scandinavian design house in a capsule clothing line featuring Bellas's photos screened on the brand's ever-popular denims and blouses (the capsule is unisex). Attendees at the launch of the book and line included Fran Lebowitz, Hanne Gaby Odiele, and Kate Foley – an apt, unexpected blend, much like "Rodeo" itself.