Queloides: Race and Racism in Cuban Contemporary Art on View at the Mattress Factory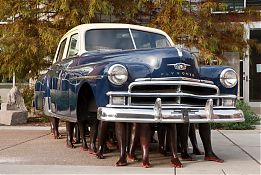 Armando Mariño, "The Raft", 2010, Installation.
PITTSBURGH, PA.- After decades of official silence, discussions of "race" and racism have become prominent in contemporary Cuba. Since the early 1990s, numerous cultural actors—musicians, writers, painters, performers, and academics—began to do something that was previously unthinkable: they began to denounce the persistence of racial discrimination in Cuban socialist society.
These intellectuals have articulated the concerns of the Afro-Cuban youth, a population group that came to age in the early 1990s, precisely at the time that the socialist welfare state began to unravel. They have constituted a loose Afro-Cuban cultural movement that is using cultural spaces to raise uncomfortable questions about the persistence of racism in Cuba. Culture has become the space where a democratic future can be imagined and debated within the island.
Queloides: Race and Racism in Cuban Contemporary Art is an art exhibit that seeks to contribute to current debates about the persistence of racism in contemporary Cuba and elsewhere in the world. The exhibit was hosted at the Centro Wifredo Lam in Havana (April 16 – May 31, 2010), then transferred to the Mattress Factory (October 15, 2010 – February 27, 2011).
The twelve artists invited to participate are renowned for their critical work on issues of race, discrimination, and identity. Several of them collaborated in three important exhibits in Havana between 1997 and 1999 (titled "Queloides I", "Queloides II", and "Neither Musicians nor Athletes"). The last two were curated by the late Cuban art critic Ariel Ribeaux.
All these exhibits dealt with issues of race and racism in contemporary Cuba, issues that had been taboo in public debates in the island for decades. Queloides (Keloids) are wound-induced permanent scars. Although any wound may result in keloids, many people in Cuba believe that the black skin is particularly susceptible to them.
Thus the title evokes the persistence of racial stereotypes, on the one hand, and the traumatic process of dealing with racism, discrimination, and centuries of cultural conflict, on the other hand. Queloides: Race and Racism in Cuban Contemporary Art includes several art forms—paintings, photographs, installations, sculptures, videos—and offers novel ways to ridicule and to dismantle the so-called racial differences.
Mattress Factory | Queloides: Race and Racism in Cuban Contemporary Art | Cuba |
Today's News
December 29, 2010