Q&A: SA's Kemang wa Lehulere on art and Amsterdam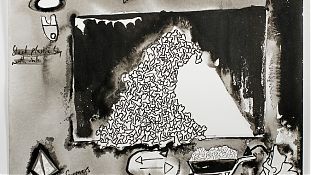 Kemang wa Lehulere, one of two young artists awarded the 15th Bâloise prize, speaks to us about his stay in Holland and SA's visual art scene.
The ANC has asserted itself as a party interested in art. Being a disciplined and hierarchical structure, work has been apportioned by rank.
Kemang wa Lehulere was born in Cape Town in 1984. A graduate of the Witwatersrand University's School of the Arts, Wa Lehulere is a co-founder of collective Gugulective in Cape Town and the Centre for Historical Reenactments in Johannesburg.
Over the last few years he has won a few gongs, including Spier Contemporary Award in 2007, the MTN New Contemporaries Award and most recently, the 15th Bâloise prize at the 2013 Art Basel fair.
The Mail & Guardian spoke to him about the prize, legal marijuana and much more.
When did you move to Amsterdam?
I have been in Amsterdam for over two weeks.
How do you find living there?
It's great, I just came back from the doctor. My body is still adjusting but I like the number of bicycles on the streets and the fact that weed is legal.
Is there a reason why you moved? Why Amsterdam specifically?
I wouldn't say that I've 'moved' here, but rather that I will be here for five months on a guest residency at the Rijksakademie.
Does being in a different city enhance your productivity or does it diminish it? And which city do you feel most at home in?
It depends on the context of how I am staying or living in that city: what the atmosphere of the city is; its architecture and urban planning; how its people engage with the city; and the availability of resources – both human and material. I have not lived in many cities so I cannot really say which city I feel most at home in. I am from Cape Town but I prefer Jozi to Cape Town. Also, the Igbo people of Nigeria say that home is where you wake up.
Tell us more about the15th Bâloise prize. What does it mean for you and for South Africa's visual art scene?
I don't know what it means for the South African visual art scene, I don't even know what that is. But to me it's been a lot of publicity and also a solo show next year in Hamburg.
What are you currently working on?
I am reworking a performance in collaboration with actor Khayelihle Dominique Gumede for a show in San Francisco early next year.
For those that don't know, what is this collaboration about?
Khayelihle and I have been discussing reworking a performance I did in 2010, based on a play by festival director Itumeleng wa Lehulere. The discussion is still premature so it's hard to say anything that is worth fixing in stone.
I see an obsessive grappling with text in your work. Do you want to talk about this?
I don't know if I would call it an obsession but yes, it has been recurring in my work and will feature more and more in the future. In fact it's rather a number of things. Before my mother passed on she had written a full album but she never got to record it. And I sat with her when she wrote this, while I was doing my homework. I used to write a lot when I was young so this could be the result of that. But some point I did fancy myself becoming a writer one day, but I gave up on it very quick as reality can be a good wake up call. I could talk more about it, but a recovering drug addict once told me that one is too many and a thousand will never be enough, so I will stop here.