Adel Abdessemed
MATHAF: ARAB MUSEUM OF MODERN ART
Al-Luqta Street
October 6–January 5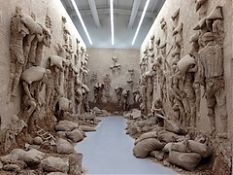 Adel Abdessemed, Sham (Sun), 2013, unfired terra-cotta, dimensions variable.
Adel Abdessemed's Spring, 2013, is an emotionally overwhelming video that documents chickens burning. It caused an outrage when it was originally shown, sending people about Doha into umbrage over its explicit contents—though the burning is actually a special effect. Noteworthy for the defensive reflex it provokes, Spring bolsters the premise of Abdessemed's latest exhibition, ironically titled "The Golden Age," which summons a world marked by violence.
At the museum's entrance, a vase crowns a pedestal made of bombs; behind it is an expansive sculpture of two cars smashed into each other, made of fired black terra-cotta that spans six feet. Above the auto wreck is a video that plays footage showing a rose being trampled in quick loops. Thirty-one life-size drawings of soldiers are hung across the walls—though whether these brawny men signal protection or threat is unclear. What is patent is the artist's intention to send visitors on an psychological roller coaster—the high point is a relief-like installation, Shams (Sun), 2013. This thirty-ton work is made entirely of unfired terra-cotta and consists of figures of workers climbing up ladders, carrying sacks, and shoveling. By the exhibition's close, all the figures will have fallen from the wall, as the clay is wet and malleable. As spectacle, the work can be seen as a superlative summation of the exhibition as a whole—the emotional outdoes itself, burning these scenes into memory. As Abdessemed once said, "Art is a fire that cannot be put out."