Proving That the Medium Really Is the Message
By JORI FINKEL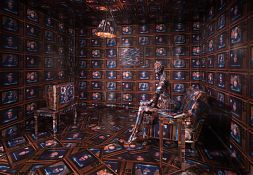 LOS ANGELES — To walk into "Waking Up in News America," a rarely seen room-size installation by the artist Robert Heinecken, is to enter weirdly familiar Marshall McLuhan territory.
Every surface and object — chair, table and lamp, not to mention the actual television set — is papered over with the faces of female news anchors, shot from television and layered floor to ceiling, wall to wall. Even mannequins are made of the media images, as if to ask, To what extent do we control our TV sets, and to what extent do they control us?
In the '70s and '80s, Heinecken used found imagery to explore themes that still feel urgent today, like the profusion of advertising messages in our lives and the manufacturing of news authorities. His television room-as-collage, from 1986, is the centerpiece of "Robert Heinecken: Sensing the Technologic Banzai," at Cherry and Martin gallery here, while "Robert Heinecken: Newswomen Corresponding," across town at Marc Selwyn Fine Art, includes related projects on the shift in broadcast news from content-driven journalism to personality-fueled banter.
But galleries aren't the only ones rediscovering his work: Museums are taking notice, too, with big shows now in the works in Brussels and New York. It has the makings of a full Heinecken revival: the transformation of the artist, who died in 2006, from a curiosity in the history of photography to an appropriation-art pioneer.
"This is a figure who has been overlooked in the major histories of contemporary art," said Eva Respini, the photography curator at the Museum of Modern Art, who is organizing Heinecken's first New York retrospective, set for March. "But he was a pioneer in exploring our media-saturated culture by using appropriated or found images," she said, comparing him to some giants of Conceptual art. "If you're talking about John Baldessari, you should also be talking about Heinecken." Younger artists drawn to his experiments in printmaking and collage, from Wade Guyton to Anne Collier, are driving much of the interest in his work, she added.
Born in Denver in 1931, Heinecken completed his bachelor's and master's degrees in art at the University of California, Los Angeles. In 1962, he founded the photography program there and taught at the university for nearly three decades. After meeting his future wife, Joyce Neimanas, an artist on the faculty at the Art Institute of Chicago, in 1976, he split his time between the two cities. The official cause of his death was Alzheimer's disease.
During his lifetime, Heinecken showed his work at traditional photography galleries, as opposed to contemporary-art venues, probably limiting his exposure. But, in fact, he rarely stepped behind a camera. For his breakthrough series, "Are You Rea" (1964-68), he exposed a single magazine page in a novel way that picked up imagery on both sides of the page, creating wild disjunctions. (A bowl of spaghetti on a bikini, anyone?) The title "Are You Rea" came from a bra ad in a magazine — the last word was missing an "l" or "lly" because it ended on the facing page.
Heinecken himself once described this work as a "perfect example of Dada: nothing changed, nothing altered." It's also easy to see the work today as a bridge between the chance operations at the heart of Surrealism and the more pointed mass-media investigations of Pictures Generation artists like Cindy Sherman and Richard Prince, known for borrowing pop culture images as the "raw" material for their work and upsetting notions of artistic originality.
"He is definitely a predecessor of the Pictures Generation," said Matthew Biro, an art historian at the University of Michigan. "He was very aware of the role that mass-produced photographs and texts play in giving us the scripts by which we develop our lives."
Pornography was a Heinecken obsession, and starting in the late '60s, he doctored magazines like Time and Vogue by inserting extraneous pinups, dominatrixes and other images. He was known to place his concoctions back on newsstands to be sold to unsuspecting buyers. Prominent feminists were outraged, and the question persists: Was his use of soft porn just plain sexist, or part of a larger cultural critique?
In the '80s, he turned his attention to television and the growing wars between morning news programs desperate to find the winning formula for online chemistry between co-hosts.
"I wish Robert could see everything that just happened with Ann Curry," said Luke Batten, referring to the former anchor of "Today"; Mr. Batten served as Heinecken's studio assistant for years before becoming the head of his Chicago-based estate. In Heinecken's largest work at Marc Selwyn, from 1984, he created a satirical documentary in which he acted like a CBS consultant hired to build the strongest morning news team. He merged still photographs of television correspondents to find the ideal pairing.
Jane Pauley and Bryant Gumbel achieved "true androgyny and racial bliss" through their union, Heinecken wrote in one of his texts. The coupling of Bill Kurtis and Maria Shriver, however, "was not acceptable to management," he wrote, wryly noting that their composite portrait looked like Kurtis "after a bad night."
In another series, "T.V. Network Newswomen Corresponding," from 1986, he juxtaposes photographs of Faith Daniels and Barbara Walters. Through similarities like clothes, haircuts and facial expressions, he makes the two women seem interchangeable — attractive cogs in the corporate machinery of making news palatable to the broadest possible public.
A fascination with female broadcasters also shapes "Waking Up in News America," at Cherry and Martin, blanketed with lithographs of four anchors (Connie Chung included). The lithographs were recently printed. So does this still count as a work by Heinecken?
Mr. Batten offered a definite yes. "Robert didn't obsess over things that way," he explained. "Even when he was alive, he always had assistants recreate the piece each time, and now we are using files digitized in the late '90s."
A range of museums from the Getty to MoMA already own Heinecken work. Ms. Respini said she is looking to buy a few more pieces. One art collector not sold on the works, however, is Barbara Walters.
"We did offer her recently three works — images of her and Faith," Mr. Batten said. "But her art consultant told us she wasn't interested."
"Robert Heinecken: Newswomen Corresponding" runs through Saturday at Marc Selwyn Fine Art, 6222 Wilshire Boulevard, Los Angeles; 323-933-9911, marcselwynfineart.com. "Robert Heinecken: Sensing the Technologic Banzai" continues through Nov. 16 at Cherry and Martin, 2712 South La Cienega Boulevard, Los Angeles; 310-559-0100, cherryandmartin.com.