Willem Dafoe to Play Pasolini in Ferrara's Drama About the Director's Last Day
by Graham Fuller
August 16, 2013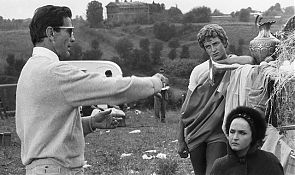 Willem Dafoe, who was Oscar nominated for his portrayal of "Nosferatu" actor Max Schreck in 2000's "Shadow of the Vampire," has been hired to play an altogether different film luminary. In his fourth outing with director Abel Ferrara, Variety reports, Dafoe will play Pier Paolo Pasolini, the Italian polymath and auteur responsible for such films as "Accattone" (1961), "Mamma Roma" (1962), "Teorema" (1968), and "Il Decameron" (1971).
Written by Ferrara, "Pasolini" will be set on November 2, 1975, the day the director, a Marxist intellectual, was murdered at the age of 53 on the beach at Ostia, near Rome. He was beaten and run over three times with his own car. Giuseppe Pelosi, a 17-year-old male prostitute who has agreed to have sex with Pasolini, admitted to the killing and spent nine years in prison. In 2005, he retracted his confession, saying he had been coerced into giving it because of threats of violence against his family.
In 1976, teenaged brothers Franco and Giuseppe Borsellini, who have both since died from AIDS-related causes, told an undercover policeman that they participated in the killing with another man. Pelosi said that the Borsellinis and three other men interrupted his and Pasolini's tryst and beat the director to death, calling him a "dirty Communist" and shouting homophobic insults.
For years, conspiracy theories have swirled around the murder. In one version, Pasolini, feared as a potential whistleblower, was killed at the instruction of his right-wing enemies. "A year before his death," The Independent newspaper reported in 2010, "Pasolini had written his famous article in Corriera della Sera titled 'The Story of the Multiple Murders,' in which he claimed to know 'the names of serious, important individuals who are behind the tragic youngsters who have opted for the suicidal fascist atrocities and the common criminals, Sicilian and others, who have made themselves available as hitmen or killers….'"
The Variety article says that Ferrara's film won't be a police procedural, though in his interview with the trade paper he does allude to another possible cause for Pasolini's murder. "At that time, Pasolini was writing the novel 'Petrolio,' where he was going to name the murderer in the famous Mattei affair," Ferrara said. In 1962, Enrico Mattei, the public administrator who had expanded the Italian state petroleum agency Agip into the all-powerful National Fuel Trust Ente Nazionale Idrocarburi, was killed in a small plane crash caused by a bomb explosion.
The film Ferrara plans to make may well be an admirer's biopic. "Seeing 'Salò' was a great moment for me," he said of Pasolini's posthumously released allegory of fascist corruption and sadism, which was based on the Marquis de Sade's "120 Days of Sodom."
"Pasolini was not just a great film director, he was a philosopher, a poet, a journalist who wrote editorials, a communist but a Catholic who opposed birth control, a radical, a free-thinker on every level," Ferraro said at the Locarno Film Festival this week.
Dafoe, who lives in Rome with his fimmaker wife Giada Colagrande and is fluent in Italian, will probably be the only American in the cast of "Pasolini," which will be shot with Roman actors on Pasolini's Roman stamping grounds. Ferrara, Variety notes, "aims to initiate principal photography on All Souls' Day, November I, the eve of the 38th anniversary" of Pasolini's mysterious demise.
Performing Arts, Film, Drama, News & Features, News, Willem Dafoe, Pier Paolo Pasolini, Graham Fuller