In Mountain Air, Foresight (Maybe)
By A. O. SCOTT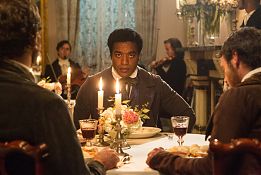 TELLURIDE, Colo. — I know, I know, it's much too early to be thinking about the Academy Awards, and Oscar talk is considered a bit gauche up here, but the Telluride Film Festival has had the distinction, for three years running, of providing the first North American screens for the eventual best picture winners. If your head for recent Oscar trivia is as bad as mine, I'll share the fruits of my Googling and remind us all that those movies were "The King's Speech," "The Artist" and "Argo." So maybe the road to the Dolby Theater in Hollywood will once again run downhill from this scruffy-chic former mining town in the San Juan Mountains.
For reasons of film festival politics, not all of those first-on-the-continent (or in-the-world) showings are technically premieres, yet. Sometimes movies tiptoe in, unlisted on the official lineup and announced as sneak previews the midnight before their debuts. One such sneak, and quite possibly a future awards contender — not that I'm making predictions — was Steve McQueen's "12 Years a Slave." Written by John Ridley and based on a memoir by Solomon Northup, a free black resident of New York State kidnapped into slavery in the Deep South in 1841, "12 Years" is by far the most ambitious of Mr. McQueen's three features ("Hunger" and "Shame" are the others) and an impressive blend of radical and conventional movie techniques.
Its violence is appropriately harsh, given the determination to illustrate the full cruelty of American slavery. It is also emotionally accessible, packed with excellent performances — from Chiwetel Ejiofor in the lead role, from a smattering of well-known screen actors and perhaps most strikingly from a newcomer, Lupita Nyong'o — and likely to extend the discussions about race that have rippled around recent movies like "The Help," "Django Unchained," "Lincoln" and "Lee Daniels' The Butler."
In this, its 40th year, Telluride added an extra day (it started last Thursday) and a new theater, the 650-seat Werner Herzog, housed in an ice rink in Town Park and named for the German director who has been a regular presence here for most of the festival's history. This year, Mr. Herzog brought a new nonfiction film "Death Row" to a festival that has traditionally had a strong documentary presence. Errol Morris was here with "The Unknown Known," in which the former defense secretary Donald H. Rumsfeld submits to Mr. Morris's characteristically relentless questioning. Other documentary subjects ranged from the paintings of Vermeer to the Cambodian genocide to an unsolved murder among German settlers in the Galápagos in the 1930s.
The Herzog relieved the lining-up bottlenecks at some of the other theaters, and was the scene of the frenzied first screening of "Gravity," which arrived from the Venice Film Festival on Saturday evening on a vapor trail of hype. "Gravity," which stars Sandra Bullock and George Clooney as astronauts stranded, like David Bowie's Major Tom, far above the world, brought a 90-minute shot of pure, giddy entertainment to this high-altitude gathering of serious-minded cinephiles.
Directed by Alfonso Cuarón from a script he wrote with his son, Jonás, the film uses 3-D to evoke the feeling of weightlessness experienced by the characters. It also brings some of the wonder and mystery back to cinematic space, inviting comparisons to Stanley Kubrick's "2001: A Space Odyssey" and Ridley Scott's "Alien," and making most recent science-fiction epics seem clumsy and earthbound by comparison.
Another movie about the fight for survival in a hostile environment, J. C. Chandor's "All Is Lost," has drawn crowds, as have the tributes to the film's star — and only cast member — Robert Redford. Mr. Redford, playing an unnamed man on a foundering sailboat in the Indian Ocean, utters barely a word in "All Is Lost," which anchors an allegory of human survival within an intensely practical story of desperate troubleshooting.
If you will indulge a little more Oscar talk (as an excuse to talk about some good movies to watch out for in the coming months), Mr. Redford's name seems certain to be on the list of best actor nominees. It is easy, at this early date, to imagine that he might be joined by Mr. Ejiofor, by Oscar Isaac — who plays an unlucky folk singer in Joel and Ethan Coen's "Inside Llewyn Davis" — and by Bruce Dern, who was Tom Buchanan to Mr. Redford's Jay Gatsby back in the year of the first Telluride Film Festival. This year, Mr. Dern is in Alexander Payne's "Nebraska," playing a cranky old guy returning to his home state to collect sweepstakes money he believes he has won. Shooting in black-and-white and expertly mingling professional and nonprofessional actors, Mr. Payne, an exiled Nebraskan himself, views the flat rural landscape and its human inhabitants with an eye at once satirical and compassionate.
The Telluride atmosphere is both rarefied and democratic, and the festival's sensibility, from the start, has combined high-mindedness with showmanship. There are movie stars milling around on Colorado Avenue and queuing up for films, and there are also erudite symposiums, restored classics and — most gratifyingly — a well-judged collection of new films from places far beyond Hollywood.
One of those places is Cannes, the point of origin for a handful of Telluride films, including "Blue Is the Warmest Color," which won the Palme d'Or this year. The Cannes jury took the unusual step of awarding laurels not only to the director, Abdellatif Kechiche, but also to the lead actresses, Adèle Exarchopoulos and Léa Seydoux, whose extended sex scenes together are already a topic of fierce debate. What propels the movie, though, is the complicated emotional connection between the characters they play, a teenager (Ms. Exarchopoulos) and a slightly older woman (Ms. Seydoux), whose relationship is explored at epic length and novelistic depth.
"Blue Is the Warmest Color" will be at the New York Film Festival next month, and will be released shortly thereafter. Some of the other Telluride selections will follow a similar path, while others do not yet have American distributors. Of those I've seen in an especially strong and crowded field, I would like to mention a few more that you should try not to miss.
David Mackenzie's "Starred Up" is a British prison drama anchored by superb performances from Jack O'Connell and Ben Mendelsohn as a son and father confined in the same penitentiary. Tough, violent and profane, the movie is also sensitive to the nuances of emotion underneath the macho belligerence, and honest about what its characters must do to survive.
"Ida" is the first Polish-language feature directed by Pawel Pawlikowski, whose previous movies (notably "The Last Resort" and "My Summer of Love") have made him one of the bright lights of British cinema. This movie is dark, both visually and thematically, as Mr. Pawlikowski uses a monochrome palette and a boxy, old-fashioned aspect ratio to capture the gloom of 20th-century Polish history and the glimmers of hope that managed to persist. The story of a young woman preparing to take her vows and become a Catholic nun, "Ida" touches on both the legacy of the Holocaust and the realities of postwar Communism with apt sorrow and an equally apt touch of fatalistic humor.
Sticking with titles that are also their heroine's names, "Gloria," from the Chilean director Sebastián Lelio, is the sad and funny portrait of a 58-year-old woman. It is hard to do justice either to Gloria (played by the amazing Paulina García) or to the story Mr. Lelio tells, which is about the way she contends with loneliness, sex, alcohol, pop music, her grown children and her neighbor's cat.
Modern urban loneliness is also among the themes of "The Lunchbox," the deft and charming first feature by Ritesh Batra. He uses Mumbai's lunch-delivery system — which transports thousands of meals every day from kitchens to offices — as the background for a quasi-romantic fable that might be thought of as an Indian variation on "You've Got Mail." An unhappy housewife (Nimraut Kaur) and a mopey accountant (the indispensable Irrfan Khan), accidentally linked by a rare glitch in the delivery process, begin a culinary and epistolary friendship that is traced with a perfect balance of tact and sentimentality.
So that's a start, anyway — a start to the fall movie season, which includes (but also transcends) the Oscar race. We will see what happens to these movies as they approach sea level.