LUDWIG MUSEUM – MUSEUM OF CONTEMPORARY ART
Komor Marcell u. 1
May 24–August 11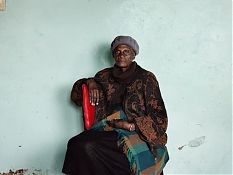 Pieter Hugo, Merian 'Mary' Tlali, Who Spent Her Entire Adult Life Working as a Maid for My Grandmother, Kroonstad, 2011, C-print, 22 4/5 × 29 1/10".
The South African photographer Pieter Hugo is probably best known for his 2005–2007 series "The Hyena & Other Men," which depicts a group of men who stage impromptu performances with tamed hyenas and baboons across Nigeria. These haunting portraits of man and beast set against a desolate semiurban background appear in this retrospective exhibition alongside works from roughly one dozen other series, together forming a fragmentary document of an equally fragmented and geopolitically complex continent.
The Africa that Hugo photographs has many distinct faces, from the seriousness of Ghanaian and Botswana judges dressed in full regalia to the intense stares of costumed actors in "Nollywood," 2008–2009, a series of vignettes based on videos produced in Nigeria, home to the world's second largest film industry. Its most striking portrait is of Azuka Adindu, who stands with an air of self-possession, naked but for a Darth Vader helmet. The photograph is an unexpected twist on the fetishized black male body, and it delivers a welcome moment of levity in an exhibition that also touches on themes that we (unfortunately) expect in a representation of contemporary African life: the Rwandan genocide, the continuing AIDS crisis, and the havoc wrought on the environment by the haphazard disposal of e-waste.
Hugo is at his best, however, when he brings the personal and the sociopolitical into uneasy contact. In one of his most recent projects, "Kin," 2011, photographs of his grandmother, pregnant wife, and daughter are presented alongside images of an abandoned children's hospital, an anthropological exhibit, and various landscapes. The matter-of-fact title of one photograph in the series reads, Merian 'Mary' Tlali, Who Spent Her Entire Adult Life Working as a Maid for My Grandmother. Hugo's insistence on naming his subjects, and in this case, their relation to him, brings into sharp focus the poignancy and intimacy of his explorations of race, class, and community in Africa today.
— Andrea Gyorody