Local hero: Bruce Davidson's photographs captured Harlem street life in the 1960s
Bruce Davidson's Sixties images of life in New York's grittiest boroughs represent the pinnacle of this master photographer's career. Now they are celebrated in a book.
Charlotte Cotton
Saturday, 7 April 2012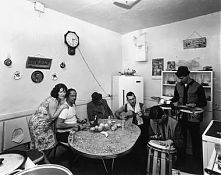 In 1956, Bruce Davidson, who'd taken his first pictures at the age of 10, was drafted into the US Army. Stationed near Paris, he sought out Henri Cartier-Bresson – by then a pivotal figure in contemporary photography – and so a stellar career began. By 1958, Davidson had become a full member of the Magnum photography co-operative, which was co-founded by Cartier-Bresson in 1947 as a network for a new generation of independent and politicised photographers. The ethos of Magnum is tangible in Davidson's work, with its narration of real lives and events well beyond the constraints of a magazine's page layout, or the stylisation of a newspaper's front-page image.
Davidson's contribution to photography is immense, and the essence of it is captured in the publication this month of Black &White. This five-volume set of books includes the key projects from Davidson's photographic journey that started in the late 1950s.
His first critical acclaim, which underpinned his award of the prestigious Guggenheim Fellowship in 1961 and his 1966 solo exhibition at the Museum of Modern Art, New York, stemmed from his portrayal in 1961 of Brooklyn gangs, and principally 'The Jokers', which occupies one volume of Black & White.
Davidson was in his mid-twenties when he photographed gang life on their block at 17th Street and 8th Avenue in Brooklyn, and at favourite hangouts on Coney Island and Prospect Park. It's a sign of his early capacity to blend into this alternative family that many gang members were undisturbed by his presence, showing their vulnerability and resilience on camera. This is a remarkably patient story of all of the facets of this gang community, in which the viewer is given a pungent sense of the emotional gamut of youth, and the good and bad luck that flavoured these young lives.
For many, Davidson's deepest influence on the story of photography was in his portrayal of the inhabitants of East 100th Street, Harlem, New York. In 1966 he received a grant from the US National Endowment for the Arts that, with the Guggenheim Fellowship scheme, have been the greatest institutional support of photography in and about America. The grant afforded Davidson the chance to spend two years working with the residents of East 100th Street and the developing stories of their lives. At the time, the neighbourhood's activists were beginning to succeed in their bid to redevelop cramped buildings and re-house its families; the Metro North Citizen's Committee would later use Davidson's photographs as evidence of the terrible conditions on East 100th Street in negotiations with city officials.
Davidson used an old-fashioned, large-format camera on a tripod with a dark cloth for this project. He wanted a non-aggressive camera and one where the act of taking a photograph was respectfully formal. The images are tonally rich and sharp, and there is a knowing irony in his use of an essentially 19th-century technology to represent the Victorian living conditions of Harlem.
Black & White also includes his 1958 portrayal of the American circus clown Jimmy Armstrong; his main independent project of the first half of the 1990s – New York's Central Park – when it was a neglected, civic embarrassment; his astounding photographs from 1961 to 1965 of the US civil rights movement.
For Davidson, who still prints all his photographs in his analogue darkroom in the corner of his New York kitchen, the process that he's undertaken over the past five years of editing and printing his archive has been an act of taking responsibility for how his contribution to photography is remembered. He describes the selection as "my museum", a retrospective shaping of a photographic journey – including the images he "plain missed" in his hurried edits for the magazines that published his work. Davidson's intelligent revisiting of his archive and practical excitement at the alchemy of photography and its capacities to tell enduring stories is what makes him one of the most important photographers of our age.
'Black & White' by Bruce Davidson is published by Steidl; steidlville.com