David Hockney's gay art made a splash when it mattered
Peter Getting Out of Nick's Pool, the painter's masterpiece of audacious desire, won the John Moores prize in the year homosexuality was decriminalised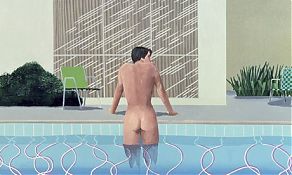 David Hockney's Peter Getting Out of Nick's Pool (1966). View larger picture
'Homotopia' … Peter Getting Out of Nick's Pool (1966). Click to enlarge. Photograph: David Hockney Collection, Walker Art Gallery, Liverpool/Richard Schmidt
David Hockney takes the making of art extremely seriously. He thinks and writes deeply about painting and photography. He has advanced a theory about the secret use of the camera in pre-modern art. Today, his own art is as much an argument about visual truth as a search for pictorial pleasure: relying on what he defines as drawing's essential elements of hand, eye and heart, he makes accurate Yorkshire landscapes.
He wasn't always so worthy.
A new exhibition of Hockney's early work has just opened at the Walker Art Gallery in Liverpool, which happens to own one of my all-time favourite Hockneys.
This 1966 painting is called Peter Getting Out of Nick's Pool. Why do I love it? I admire its courage and clarity. Hockney watches Peter's nude back and bottom as his tanned form emerges from crystalline blue water. The image of a beautiful human body rising out of water is one of the great fantasies of European art: this painting is a male version of Titian's Venus Anadyomene or Raphael's Galatea. It's a hymn to perfection and a dream of love. Hockney's significance in cultural and indeed social history is perfectly expressed in this happy painting.
When he was young, Hockney cared as much about good drawing as he does today. But his technique was in the service of an audacious vision of desire. Los Angeles was his paradise, its swimming pools his mythic Mediterranean. Few modern artists have painted the things that make them happy with as much insouciant, guilt-free precision as Hockney did then.
The Walker's exhibition of his early art is part of Liverpool's Homotopia festival, and it's right to celebrate him as a gay hero. Peter Getting Out of Nick's Pool won the John Moores prize in 1967, the year homosexuality was decriminalised in Britain.
Hockney's early art is indeed a "homotopia" – if that means a place where desire is free. Today you're more likely to find Hockney in a rainswept field than by a swimming pool. He made his splash when it mattered though, and freeze-framed his passion forever in timeless images of hedonism.