A Window, Not a Mirror
By HOLLAND COTTER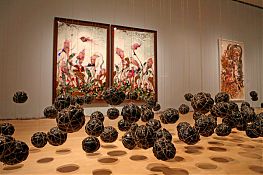 How much does the cash-drunk New York art industry care about racism, neocolonialism, wanton consumption, persistent sexism, environmental spoilage or any other global realities? Next to not at all. How much does the same industry care about big, superbly made objects that pleasure the eye? Hugely.
For the past decade and a half, the artist Wangechi Mutu has been combining both elements — unpopular content and desirable form — in a series of magnetic, salon-size figurative collages that are as politically nuanced as they are visually ravishing. Since Ms. Mutu first started to exhibit in the late 1990s, the work has grown more complex, detailed and beautiful by the year. And we're seeing it at what has to be some kind of peak moment in the pithy traveling survey called "Wangechi Mutu: A Fantastic Journey" at the Brooklyn Museum.
The show gets right down to business in its earliest piece, "Riding Death in My Sleep," from 2002. In both its materials — cut and pasted paper, paint and ink — and its concerns, which are in part about scratching away some of the fictions surrounding race, gender, and beauty, it anticipates much of what follows.
The basic composition is simple: A single large female figure crouches atop a hemispherical blue mound against a neutral beige ground. Yet everything about the image is complicatedly strange. The woman wears high-heeled boots, raffia leg ornaments of a kind found in African masquerades, and a neck-to-fingertip body suit so tight that it could be her skin. It's patterned to look at once bejeweled, reptilian and diseased.
Her head is shaved and ivory colored except for her plush, pillowy, pasted-on red lips. She radiates both a runway hauteur and a confrontative chic-beyond-fashion power. She's like Grace Jones in whiteface and in extra-extraterrestrial mode. Fully self-possessed, utterly untrusting, she stares out of the picture with narrowed eyes challenging us to find not-normal a problem.
When Ms. Mutu arrived in New York in the 1990s, she, too, had cause to feel herself somewhat alien and on guard. Born in Nairobi, Kenya, in 1972, and educated there in a convent school into her teens, she moved to the United States to study art and by 2000 had earned degrees from Cooper Union and Yale. Her presence coincided with the high tide of multiculturalism, when particular aspects of her identity — as black, African and female — were all under local, distancing, compartmentalizing scrutiny. At the same time, she brought with her a history that she had to sort out for herself at a geographical remove from its source.
One way or another, all of this fed into her art and still does. Judging by a selection of sketchbook sheets in the show, some going back to 1995, Ms. Mutu's primary forms and themes were in place at an early point. Collage, which has the potential to join unlike and even discordant elements into a fractious harmony, was a preferred medium, enhanced over time by painting and drawing.
The sources for her images were deliberately and pointedly chosen: illustrated medical texts, fashion glossies, ethnographic periodicals like National Geographic, and pornography.
Each image in some way deals with bodies being controlled, assigned passive functions and roles, as anatomical specimens, models, native types, sex objects, and so on.
Ms. Mutu asserted her own control by taking this material and making something new from it: intensely aestheticized cyborgs, bodies that won't stand still, won't be pinned down, colonized, won't behave in expected, unconfusing ways.
Although almost all her composite figures appear to be female, gender assignment — even species assignment — is often unstable. So is racial identity: sometimes exaggerated to the point of stereotype, in other cases impossible to define. Ms. Mutu's childhood and youth in Africa, like anyone's childhood and youth anywhere, are of abiding interest to her, as, in a different way, is the African identity persistently associated with her as an adult in the West, most recently by an art market programmed to label, promote and discard.
Her way of staying fluid about who and what she is has been to invent her own brand of exoticism: sensual, transcultural, self-critical and increasingly sophisticated. In the process, she has become less of a collagist and more of a painter, moving her beyond initial strong stylistic debts to Hanna Hoch and Romare Bearden. And she has become more adept at varying the weight and tone of her work, so that it doesn't fall into easy polemic or parody.
The 2006 collage called "Le Noble Savage" could have tipped either way, but keeps its balance. Its dark-skinned figure, her torso tattooed with Kuba cloth patterns and cutout heads of big-game animals dangling from her waist, has the makings of a tribalist cliché. But her gesture, with one hand stretched skyward and holding a little tree, as the Statue of Liberty holds her torch, really is noble, a kind of hail and farewell to all of us savages who, over generations, have traveled between old and new worlds.
The 2003 collage diptych titled "Yo Mama" was inspired by a particular woman, Funmilayo Ransome-Kuti (1900-78), a Nigerian political activist and mother of the Afrobeat star Fela Kuti.
Here, she is symbolically depicted as the biblical Eve taking charge of her fate, decapitating a serpent and reclaiming her right to paradise.
It's a heroic image, though not entirely so. The dominant color is a pretty femme pink; Yo Mama's unitard is mica-flecked; she seals her victory by nailing the snake with a stiletto heel.
Ethically, as in every other way, Ms. Mutu's women are ambiguous, and rarely benign. In a 2013 video animation called "The End of Eating Everything," a futuristic-looking female figure (played by the American singer Santigold) floats across space, her mouth devouringly open as if trying to suck in everything around her. Gradually her body swells into a grotesque, palpitating organism, like a spaceship-size jellyfish or bursting fruit, or an immense stomach with a tiny attached head.
Unchecked consumption is also the subject of a 2012 video in which the artist herself appears as a kind of Afro-Caribbean priestess seated under a large tree and ritualistically gorging on chocolate cake, as if in the grip of unappeasable hunger. Maybe taking a cue from the film, she has turned one of the show's two galleries into a forestlike environment, with a great tree made from sheets of dark, hand-molded packing fabric. Overall, the installation works, though a multipart suspended sculpture in the other room doesn't. It's exactly what the collage work isn't: a didactic gesture that demands explanation and offers scant visual reward.
It is, as I say, an exception to nearly everything else here. Ms. Mutu's collages are her great strength.
She's brought them a tremendous developmental distance in a short time. And she is taking them in exciting directions on the evidence of a suite of 13 small pieces collectively titled "Family Tree" and made especially for the exhibition, which has been organized by Trevor Schoonmaker, curator of contemporary art at the Nasher Museum of Art at Duke University, where the show originated.
For this new work, she assembled an encyclopedic spectrum of categories usually assumed to be isolated but that are, in reality, fluid: animal, vegetable and mineral. Nature and culture, personal and political, us and them, home and the world, gorgeous and gross. She put them in a blender and turned it on high. The terrifically bizarre, churning, mutually cannibalizing images that result could be heading toward abstraction, though for this artist that's too easy a route. She's giving us something more like an apocalyptic version of polymorphic perversity, a shot of the libidinal pleasure the art world so loves along with a series of fast, repeat jabs to the head it deserves.