A Universal Archive: William Kentridge as Printmaker – review
University of Northumbia Gallery, Newcastle
Forged in apartheid-era South Africa, the mordant, theatrical work of the film-maker and draughtsman William Kentridge is anything but black and white
Laura Cumming
Te Observer, Sunday 25 August 2013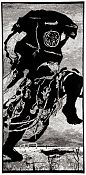 William Kentridge is not just South Africa's most famous artist, he is arguably the most acclaimed animator in international art and a draughtsman whose polemical strength harks back to Daumier and Goya. His images tell stories, and not just because they are strung together in filmed animations. Every picture Kentridge makes has its own narrative force: he is a fabulist working in pencil, ink and charcoal.
The truth of this is apparent from the drawings that tend to accompany his films in exhibitions around the world, solo spots for the characters who so often appear in his films – the mine owner Soho Eckstein, a troubled white brute forging an empire out of the sweat and blood of Johannesburg blacks, who eats, sleeps and cheats in his big pinstripe suit. His abandoned wife Mrs E, and her lover, Felix, a stocky, balding artist, also white, who is paralysed by episodes of guilt. Felix is as naked as Eckstein is clothed and in some senses the plutocrat's alter ego; he is also, literally and metaphorically, Kentridge's own self-portrait.
But before Soho and Felix, before any of the films – filmed drawings, as they've been called, or drawn films – it turns out that Kentridge made prints. This is where his art began. Born in 1955, the son of two liberal lawyers one of whom – Sir Sydney Kentridge – acted on behalf of Steve Biko, William Kentridge grew up in the most intense period of apartheid. In the 1970s he made posters for trade unions, student rallies and radical theatre companies – not all of which were displayed in public, and some of which were considered too explicitly political to print. He studied and later taught etching at the Johannesburg Art Foundation and has worked in drypoint, etching, engraving, linocut and silkscreen ever since.
The Hayward Gallery's touring show opening in Newcastle next week will present more than 20 years of work and more than 100 prints made in all these different media, from tiny etchings to enormous linocuts made on the biggest presses in South Africa which depict human (or quasi-human) figures at the size of life.
Printmaking suits Kentridge. He works almost entirely in black and white in any case, as if colour would be a frivolous distraction from the graphic truths his films convey. It's also a convivial medium, generally involving more than one person, and Kentridge has always been a gregarious artist – acting in plays, designing for them, making films, lately collaborating on operas. His art is a form of public speech.
This is very apparent in Little Morals, a sequence of etchings that pay direct homage to Goya. In Negotiations Begin, a circle of figures dressed variously in military boots and pinstripe suits, with megaphones or empty drums for faces, are cavorting only inches from a corpse still bound to a tree – a horrifying vignette straight out of Goya's The Disasters of War. In Reserve Army it is hard to tell whether the ominous black objects dotting the landscape are bombs or decapitated heads; and the caption is similarly ambiguous, descriptive and yet also imperative.
Anti-Waste? Just dress in those newspapers, and live in those cardboard boxes that might otherwise be thrown away (like the destitute people sheltering inside them, needless to say). The words beneath the images have the tone just right. Like the captions to Goya's prints, they linger in the air like overheard voices.
Kentridge's figures are often trapped by their own frustrated movements, sucked up by the showerhead, strapped forever to the swivel chair in the office. Some seem to grow their own cages, imprisoned by guilt and doubt. Felix magics the anarchic figure of Alfred Jarry's Père Ubu out of thin air, like a chalk drawing emerging from a blackboard; but the magic backfires when Ubu reels his creator back in, tangles him up in his own lines.
Kentridge's prints are a theatre of the mind: you see his imaginary world performed on a small stage, with all its familiar characters – Ubu, Felix, Soho; even the objects that feature in his work amount to recurring characters. Soho's Bakelite telephone morphs into his neglected mistress, waiting for his call. The studio coffee pot doubles up as the artist's own buzzy head. And the film camera strides the landscape on its tripod legs, a heartless, if watchful machine.
telephone lady william kentridge Telephone Lady (2000) by William Kentridge. Photograph: © the artist and David Krut Fine Art, New York and Johannesburg
Kentridge recently designed a production of Shostakovich's opera The Nose, based on Gogol's clerk whose nose becomes detached and is able to snub him by rising higher up the bureaucracy. Anyone who saw the startling Kentridge film cycle inaugurating the Tate Tanks last November, which started out as the opera's backdrop, will remember the aesthetic – a blend of constructivism, Soviet realism and the artist's own shadow play – and the nose, in prints, is like a ruthless commissar from the same mordant pageant.
Pageants are Kentridge's format to an unusual degree. Just as his films are drawings that keep on moving, so his drawings proliferate, continuing one into the next, very often in cycles. In his biggest print – or at least his longest, running to four metres – the people just keep on coming in coruscating silhouette. Dispossessed, burdened, struggling with babies and children, carrying their few belongings on their backs, harried by officials, or men with guns, they just keep on going, some singing, others almost seeming to break into dance. Nothing is ever just black or white.
William Kentridge as Printmaker tours to Peninsula Arts, Plymouth, 28 Oct- 30 Nov.