September 5, 2013
MOVIE REVIEW
A South African Heroine, With the Flaws Air-Brushed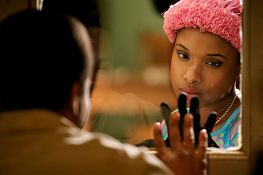 By STEPHEN HOLDEN
Early in Darrell J. Roodt's rushed, patchy biopic, "Winnie Mandela," the title character makes a grand entrance in a South African courtroom wearing a stunning outfit you might see in a glossy magazine devoted to African fashion.
The judge is not amused. "Mrs. Mandela, this is a final warning," he declares. "You will not come into this court wearing traditional regalia. It encourages dissent."
"My lord," she replies haughtily, her eyes flashing daggers, as if she were Naomi Campbell in high dudgeon. "May I remind you that of the limited rights I have in this country, I still have the right to choose my own wardrobe."
As played by Jennifer Hudson, Winnie Madikizela-Mandela, the anti-apartheid crusader and former wife of Nelson Mandela, once known as the "mother of the nation," is many things: fearless activist, proto-feminist and heroic survivor of more than a year in solitary confinement. But fashionista?
Ms. Hudson's frequent and distracting costume changes are a sign of deeper problems in a movie that wants to be all things to all people, especially women. Even Ms. Mandela's ultimate fall from grace is spun lightly. In 1998, the South African Truth and Reconciliation Commission found that she was "accountable, politically and morally, for the gross violations of human rights committed by the Mandela United Football Club," her personal security detail made up of young men in the black township of Soweto, after the killing of a teenage boy at her house. But the events surrounding the death and her role in contributing to black-on-black violence in Soweto are not explored.
To Ms. Hudson's credit, her performance rings with conviction. She can be downright ominous, especially when her character is angry. Unfortunately, the screenplay by Mr. Roodt ("Cry, the Beloved Country") and André Pieterse, adapted from Anné Mariè du Preez Bezdrob's biography, has so much ground to cover that the movie plays like a made-for-television quickie. The politics alone deserve a mini-series. (The movie's release was delayed after it was poorly received at the Toronto International Film Festival in 2011 and by critics during a limited run in Canada. It is also saddled with an unfortunate end title song, "Bleed for Love," written by Diane Warren and sung by Ms. Hudson and the Soweto Gospel Choir.)
The young Winnie is a feisty child, the sixth daughter of a rural schoolteacher who was bitterly disappointed that he didn't have a boy but later changed his mind. She trounces her male peers in stick fighting and can recite Shakespeare. A gifted student, she lands in Johannesburg, by which time she has enough of a social conscience to turn down an American scholarship because, she says, "I'm needed here."
While working as a pioneering black social worker, she attracts the attention of Nelson Mandela (Terrence Howard), whom the local girls regard as a dreamboat. Mr. Howard adroitly plays both aspects of this man: the fearless, outspoken firebrand and the sly, cocky rogue. But in either mode, the character has too little screen time to emerge as more than a stick figure.
Their courtship proceeds quickly until their wedding night, when DeVries (Elias Koteas), the movie's generic Afrikaner oppressor, storms into their love nest with a security force, takes a bite out of their wedding cake and spits it on the floor. This one-dimensional fiend from hell regularly pops in and out of the movie to harass Nelson, who in 1964 is sentenced to life imprisonment and sent to Robben Island, where he works in a quarry, splitting rocks.
Winnie takes over his anti-apartheid crusade and is eventually arrested and put in solitary confinement. She is reduced to talking to ants on the floor of her cell while being verbally harassed by a hysterical prison matron who, like the movie's racist villains, is played as a screaming caricature. When Winnie refuses to denounce her husband's cause, she is exiled to a small town hundreds of miles from Soweto before being allowed to return to the township, which is now on the brink of chaos.
From this point, "Winnie Mandela" is a film divided against itself. It wants to do the impossible and tell its subject's story while de-emphasizing the negative to sustain inspirational momentum. Late in the movie, the couple have their first fight after Nelson asks Winnie if she is sleeping with a member of the football club.
"You have no right to ask me that question," she huffs.
She might as well be speaking for a movie that would rather turn a blind eye to a lot of things that need a lot more development.
"Winnie Mandela" is rated R (Under 17 requires accompanying parent or adult guardian) for some violence and strong language.
Winnie Mandela
Opens on Friday.
Directed by Darrell J. Roodt; written by André Pieterse and Mr. Roodt, based on the book "Winnie Mandela: A Life," by Anné Mariè du Preez Bezdrob; director of photography, Mario Janelle; edited by Sylvain Lebel; music by Laurent Eyquem, "Bleed for Love" music and lyrics by Diane Warren, performed by Jennifer Hudson and the Soweto Gospel Choir; production design by Emelia Weavind; costumes by Pierre Vienings; produced by Mr. Pieterse and Michael Mosca; released by RLJ Entertainment/Image Entertainment. Running time: 1 hour 47 minutes.
WITH: Jennifer Hudson (Winnie Madikizela-Mandela), Terrence Howard (Nelson Mandela), Elias Koteas (Major DeVries) and Wendy Crewson (Mary Botha).
Copyright 2013 The New York Times Company Home Privacy Policy Search Corrections XML Help Contact Us Back to Top