Andres Serrano's controversial Piss Christ goes on view in New York
Photograph that has attracted controversy for more than two decades attracts protests outside New York exhibition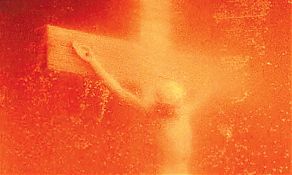 Andres Serrano's Piss Christ has attracted controversy for more than two decades.
Piss Christ – a photograph that has attracted controversy for more than two decades – has gone on display in New York, at an exhibition which surveys 25 years of the artist Andres Serrano's work.
In 1989, the 60×40in red and yellow photograph of a crucifix plunged into a vat of Serrano's urine ignited a congressional debate on US public arts funding; in France last year, it was physically attacked. In midtown Manhattan on Thursday night, a small group of Catholics opposed to the work gathered outside the Edward Tyler Nahem gallery, where the exhibition opened.
"At the time I made Piss Christ, I wasn't trying to get anything across," Serrano told the Guardian. "In hindsight, I'd say Piss Christ is a reflection of my work, not only as an artist, but as a Christian."
Some Christians find the work deeply offensive. Anger towards the photograph hit a pinnacle on Palm Sunday 2011 when French Catholic fundamentalists attacked and destroyed the photograph with hammers. Serrano's photograph of a meditating nun was also damaged in the attack.
"The thing about the crucifix itself is that we treat it almost like a fashion accessory. When you see it, you're not horrified by it at all, but what it represents is the crucifixion of a man," Serrano told the Guardian. "And for Christ to have been crucified and laid on the cross for three days where he not only bled to death, he shat himself and he peed himself to death.
"So if Piss Christ upsets you, maybe it's a good thing to think about what happened on the cross."
Before the new exhibition opened – it features another photo from the original series of four – members of the Catholic League for Religious and Civil Rights in the United States stood outside the building to explain their opposition.
Bill Donohue, who has been president of the Catholic League since 1993, believes that the Obama administration has given anti-Muslim imagery like the controversial Innocence of Muslims film unfair protection.
"I would argue that ethics should dictate that you don't go around gratuitously and intentionally insulting people of faith," Donohue told the Guardian. "I don't care whether you're Muslim or Jewish or Catholic or whatever you might be."
In 2010, Donohue and the Catholic League led a successful attempt to remove from the National Portrait Gallery in Washington a film by the artist David Wojnarowicz, about Aids, that included an 11-video clip of Jesus on the cross being eaten by ants.
On Thursday in New York, the members of the Catholic League dispersed after getting into an argument with security. They were eventually replaced by three counter-protesters – two dressed as nuns – who were in favour of Piss Christ.
The exhibition will be on display through 26 October at the private Edward Tyler Nahem gallery. Serrano's next project includes a large book of photographs of Cuba, where his mother was raised.
© 2012 Guardian News and Media Limited or its affiliated companies. All rights reserved.