The New York Times
November 20, 2013
Spike Lee, Still Gliding to Success
By LOGAN HILL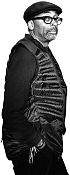 "Rage doesn't have to fester for years, but revenge?" the director Spike Lee said, as he rapidly autographed 50 movie posters in a downtown Manhattan hotel suite. "That stuff takes time. It's the oldest staple of films, in stories. It goes back to the Bible."
In Mr. Lee's new film, "Oldboy,"Josh Brolin plays Joe Doucett, an alcoholic ad man and negligent father who is imprisoned in a small, mysterious room for 20 years for no evident reason. Believing that he was framed for his wife's murder, and that his daughter was abducted, Joe's rage ferments until it is distilled into pure blood lust.
When Joe is finally uncorked from captivity, he is so monomaniacally bent on vengeance that his unnamed city itself seems to bend to his will. In one shot, Joe, wearing a grim black suit and a murderous scowl, literally glides through city streets, which scroll beneath him like moving sidewalks. He seems propelled toward his revenge, as if pulled by some unseen force.
Mr. Lee's fans will immediately recognize this gliding shot as his signature double-dolly shot, a love-it-or-hate-it technique that no other director can deploy without being accused of either homage or thievery. Instead of just mounting the camera on a wheeled dolly that rolls on tracks, Mr. Lee places both actor and camera on a single mobile platform. They glide together, binding the actor to the camera, while separating the actor from the surroundings.
When Mr. Lee and the cinematographer Ernest Dickerson first displayed their flourish on the set of 1992's "Mo' Better Blues," it was just "show-offy, student film stuff," Mr. Lee said. In the years since, he has used the shot to capture the inexorable pull of drugs ("Summer of Sam," "The 25th Hour"), sex ("Girl 6,""Jungle Fever"), rage ("Inside Man") and history ("Malcolm X"). When Mr. Lee uses the shot most effectively, the movement creates a sense of propulsive inevitability: Characters like Mr. Brolin's Joe are literally driven through scenes, unable to turn back.
Video by Richard Cruz
Spike Lee – The Dolly Shot
It is fitting, then, that the first actor Mr. Lee shot that way was himself. The double-dolly shot is not just his signature because, like him, it is brash, blunt, divisive and innovative. Its form also mirrors the bravado and unflappable determination of Mr. Lee's unyielding career. "I knew I was going to be good before I ever went to film school," Mr. Lee said, signing his last poster and settling into an armchair.
"Oldboy," which opens Nov. 27, is a prototypical vengeance film, in which a man's hardship motivates him to fearsome greatness, so Mr. Lee was asked if revenge had motivated his career.
"In a lot of ways, you can use naysayers as fuel," Mr. Lee said, nodding. "Michael Jordan got cut from his high school basketball team. You slight him, and he doesn't forget it. Even now. YouTube his Hall of Fame ceremony. He went down the list."
As he often does, Mr. Lee mentioned that the University of Southern California and the American Film Institute rejected his film school applications. He told the story of how he was nearly kicked out of New York University's film school because of poor evaluations for his short film "The Answer," which was a furious response to the racism of D. W. Griffith's 1915 "The Birth of a Nation." But, after considering the question, he shook his head and said:
"There's some parallel, but not much. To be honest, I was already on a mission. I just needed the equipment."
In the 31 years since Mr. Lee graduated from N.Y.U., he has been one of independent cinema's most consistently productive filmmakers, toggling between his own idiosyncratic projects ("Red Hook Summer") and commercial hits ("Inside Man"). Despite protests, flops, pans and a convulsive industry, he has completed 20 feature films and seven documentaries, made music videos and television shows and ads, moved millions of Air Jordans, shifted from film to digital technology, and taught 15 years at N.Y.U. But he had never made a remake until taking on the South Korean director Park Chanwook's hyperviolent, hyperstylized 2003 cult classic "Oldboy" — though Mr. Lee prefers the term "reinterpretation."
"The difference is the mind-set," he said. "We're not saying, 'Let's make it better than the original.' We're making our own interpretation."
The basic thrust of the film — vengeance, with whopper plot twists — is "universal," Mr. Lee said. "The reason revenge films have been so popular is because people don't go as far as doing the act, so they live vicariously through characters, like Charles Bronson in 'Death Wish,' or Dirty Harry. You know, Peter Parker was pushed around: They stepped on his glasses. That's how we get these huge hits."
Mr. Lee's film also taps into the original's vein of fatherly guilt. Joe Doucett, like Don Draper on "Mad Men," is an ambitious, alcoholic advertising executive who is tormented by guilt over the daughter he ignored even before his abduction.
"How many fathers haven't been around for their children's birthdays, or their first step, because they were working?" said Mr. Lee, who admits his own singular focus has distracted him from parenthood. "Especially now that my daughter's older — she's a freshman at N.Y.U., in the film school — I think of all the times I was away, shooting a film or a commercial."
He shrugged, then laughed and added: "O.K., or at a Knicks game. And when you miss it, it's gone. That's a lot of guilt."
Elizabeth Olsen, who plays a young woman who tries to help Joe, said in a phone interview: "That's the core of the movie. For Josh, because he has a daughter my age, it was something he could connect with: What would that be like if you can't be with your kids?"
Mr. Brolin, who gained 28 pounds and then lost 22 for the role to signify the passage of time, was not available for interviews. Recently, gossip sites have been circulating video of the actor, a father of two, visibly intoxicated outside a Santa Monica bar, in footage quite similar to his character's drunken scenes in "Oldboy."
"Watching him perform and watching him in the final film," said Mark Protosevich, who wrote the screenplay for Mr. Lee's film, "he was very clearly tapped into some dark places, and whether that's coming from a place personally, I don't know. He could place himself on the road that that character was on."
The most difficult challenge for Mr. Brolin and Mr. Lee was reinventing the original film's centerpiece fight sequence: a side-scrolling, ferociously violent hallway battle in which the protagonist slays dozens of enemies, mostly with a hammer, all in one uninterrupted long shot. Not one to back away from a challenge, Mr. Lee said he tripled the length of the fight sequence and expanded the set from one hallway to three parking lot ramps.
Because they were aiming to get it in one shot, Mr. Brolin trained for six weeks to memorize the choreography. After seven complete takes, Mr. Brolin has said, he broke down in tears. That scene, however, along with much of Mr. Lee's initial, three-hour cut, was trimmed by the studio to make the final version's 102-minute run time.
"It's not one shot," Mr. Lee said. "There's a cut in it. Shouldn't be, but there is a cut."
As he spoke, Mr. Lee fiddled with the hefty gold cross pendant around his neck. Decorated with Day of the Dead skulls, it was bought at Bergdorf's and placed in his films "Red Hook Summer" and "Miracle at St. Anna." The pendant, Mr. Lee said, "wards off evil spirits."
Asked to explain why the scene was edited, Mr. Lee shrugged. "Tough business," he said. "That's all I'm going to say. Tough business."
Of course, Mr. Lee being Mr. Lee, this isn't quite all he said.
"There's no reason to try and even attempt that shot unless it's a one-take," he said, scowling through his tortoiseshell glasses. "That's the scene from the original! That's the scene!"
Asked to clarify, Mr. Lee chuckled and pursed his lips: "Two words: tough business."
Asked once more, he finally elaborated. "Three words." If Mr. Lee has a signature shot, the third word, placed between "tough" and "business," is the signature of his film's co-star Samuel L. Jackson.
"Spike is an artist who needs to tell stories, and deeply believes in the ones he chooses to tell," Mr. Jackson said in an email. (He swore that the leather kilt his Mohawk-sporting "Oldboy" character wore was "totally not poking fun of Kanye" West, unlike Mr. Lee, who wore a leather kilt to last year's BET Awards).
For Mr. Lee, it has always been a tough business, and he laments the films that never happened. Mr. Lee said he hoped to direct Justin Timberlake in a film about the music tastemaker Neil Bogart, who started the careers of stars ranging from Curtis Mayfield to the Village People. But he bitterly recalled the adaptation of the musical "Rent" that he wanted to direct with Mr. Timberlake, a job that ultimately went to Chris Columbus.
"Shenanigans went on, and it didn't happen," he said. "But Justin Timberlake and I doing 'Rent?' Come on, now."
He pursued and developed biographical films about Jackie Robinson and James Brown for years and lost them to other directors. "The James Brown film is going to be directed by the guy who did 'The Help!' " (Tate Taylor), Mr. Lee said, cackling. "But I'm getting my films done."
Mr. Lee said he was hopeful about this year's apparent boom in black cinema, led by "Fruitvale Station,""Lee Daniels' The Butler," and "12 Years a Slave," which Mr. Lee said he had not seen.
"I love Steve McQueen's work," he said, both complimenting that director of "12 Years" and setting up a swipe at his nemesis Quentin Tarantino's "Django Unchained." "I know it will treat slavery as the holocaust that 400 years of slavery was. Not a cartoon. Not an action movie."
Mr. Lee also noted that optimistic reports about 2013's black cinema wave are all too familiar.
"Every 10 years, I've read the same articles," he said. "I remember reading them one year," referring to 2002, "when Denzel won for 'Training Day,' Halle Berry won for 'Monster's Ball,' and Sidney Poitier won an honorary award. And then what happened?
"We've been getting these new black cinema waves every 10 years or so since 1986, when I had 'She's Gotta Have It' and Robert Townsend had 'Hollywood Shuffle.' For me, I just wish it was consistent, and not this feast or famine thing that's been going on."
Despite all this, through flops and hits, Mr. Lee has been consistently productive. He may lose an argument over a cut, as in "Oldboy," but the director and his camera just keep moving forward together, as in his signature shot, seemingly unstoppable. His latest film, "Da Blood of Jesus," about people addicted to blood — "It's not Blacula!" Mr. Lee said — has just wrapped up shooting, starring two newcomers, the N.Y.U. student Zaraah Abrahams and Stephen Tyrone Williams.
For it, Mr. Lee, 56, now with gray in his beard, raised $1.25 million through the crowdfunding website Kickstarter by selling perks that ranged from "Oldboy" posters, like the ones he had just signed, to his coveted courtside Knicks seats. It was the third largest sum ever raised by a Kickstarter filmmaker.
"We shot it in 16 days," he said, grinning. "One day ahead of schedule."
This article has been revised to reflect the following correction:
Correction: November 21, 2013
An earlier version of this article was imprecise about Spike Lee's use of the double-dolly shot in his movies. While Mr. Lee and the cinematographer Ernest Dickerson first used the shot in their 1992 movie, "Mo' Better Blues," and have made it a signature of Mr. Lee's work, they did not create the technique, which has been in use for decades.