LaToya Ruby Frazier: A Tenant Farm for the 21st Century
By Christian Viveros-Faune
The mother of all Great Depression books, Let Us Now Praise Famous Men, grew out of a Time magazine assignment. Accepting it were two young artistes, James Agee and Walker Evans, who agreed to produce a "photographic and verbal record of the daily living and environment of an average white family of tenant farmers." Their boss, Henry Luce, wanted a tidy piece of objective journalism; what he got was a 495-page tome that blew away traditional forms of photographic and written reportage. It was also, in Agee's beatific parlance, "an independent inquiry into certain normal predicaments of human divinity."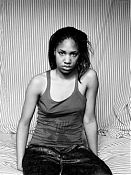 Self Portrait (March 10a.m.), 2009/ Brooklyn Museum Collection
Recording "human divinity" and "certain normal" if tragic "predicaments" was a tall order, even for Agee and Evans during the age of the New Deal, but their mission has recently found an important 21st-century champion in the person of LaToya Ruby Frazier. A 31-year-old African-American photographer whose combustible black-and-white photographs have the fierceness of trench confessions, Frazier has also proven an awkward mainstay of curators during the Great Recession. Finally given her own solo show at the Brooklyn Museum, Frazier's furious realism seeks to recapture injustice, love, and moral outrage as subjects fit for the most urgent art of our time.
Some 40 years ago, James Baldwin wrote: "Anyone who has ever struggled with poverty knows how extremely expensive it is to be poor." If Frazier's hometown of Braddock, Pennsylvania, is any indication, precious little has changed at the bottom of the wage chain. A place so depressed it served as the location for the post-apocalyptic film The Road, Braddock shed 90 percent of its population in just a few decades (down from 20,879 to fewer than 2,500). It also lost steel mill jobs, homes, security, the health of its remaining citizens, the burg's only hospital, and just about all hope for the future. A Rust Belt ghost town—most houses have either been destroyed or abandoned—subsequently wracked by free-trade deals, the crack epidemic, and global recession, Braddock nonetheless serves as Frazier's beleaguered Paris. As this show demonstrates, there's scarcely a grimy corner of the godforsaken place Frazier won't nuzzle with her camera to uncover her own beloved city of darkness.
The tale of Braddock is also the story of Frazier's own family, and the human costs ledgered after having lived in the town for several generations. Relayed through some 40 gelatin silver photographs and etched aluminum plates, the Frazier family narrative—as told in the museum's "LaToya Ruby Frazier: A Haunted Capital"—touches on poverty (its grinding effects are written on the bodies of its subjects), filth (there are rooms pictured with dust bunnies as solid as I-beams), disease (virtually the entire family suffers from pollution-related illnesses, including the artist), and societal abandonment (some affecting photos display the ruins of what was once Braddock's sole hospital). Shot as either portraits or landscapes, Frazier's pictures establish important physical and symbolic correspondences between the ongoing demolition of the town and its inhabitants. They all look as if they've just been relieved of several internal organs.
Less Waiting for Godot than waiting to knock FEMA's block off (or at least holler at them a good long while), Frazier's chorus of witnesses rarely smiles, and usually confronts the camera directly, if not head-on. Shot on film and developed with a nearly fetishistic attention to silvery whites, charcoal blacks, and increasingly obsolete camera techniques (digital cameras having largely eroded old-school paper and emulsion photography), Frazier's images lean hard on a historical tradition that the artist, in effect, hungrily looks to cannibalize. Bits of Evans show up here, glimpses of Dorothea Lange there, among other legendary documentarians. But Frazier's real accomplishment is to raise those echoes to a pitch of unforgiving, white-knuckle intensity. Not the artistic quotations of a devotee, her invocations of these canonical influences instead are overwhelmingly straight-up Oedipal.
The humiliations of Braddock are not excused or polished over: Leaden overcast skies match the gray and ash tones of the rubble-strewn streets; a still life of framed pictures and personal effects smolder elegantly on a bedside table; a set of portraits of the artist's disabled grandfather include one of the old man having his ass wiped by a relative. Frazier proved pitiless in selecting the group of photographs for this exhibition, going so far as to include a 2009 portrait of her middle-aged mom taken, it appears, right after cancer surgery. Doubled over the sink of her tiny bathroom—from the pain, one imagines—she exposes her wounded breast, the crosshatched stitches covering her fresh incision, and the cruddy residue of the bandages she has just pulled off. As remarkable an image of emotional and physical suffering as I have seen, it is mostly shocking in its distilled ordinariness.
Because Frazier sometimes accompanies her photographs with written testimonials—I believe the connection with Agee is both real and self-conscious here—some of the prints at the Brooklyn Museum are also supplemented by evocative and informative snippets of wall text. Take the picture Self-Portrait (March 10 am), a particularly exasperated image of the artist sitting on her bed after a lupus attack. About this image Frazier writes matter-of-factly: "On this occasion I had just returned from clearing out my grandmother's apartment in Braddock after her death." A second, more complex composition that includes a reflection of the artist's mother and the artist herself wearing a T-shirt with an image of The Cosby Show's Huxtable clan receives this elliptical note: "Between my background and my foreground, I am not sure where I stand." A laureate of poverty's minefields, her black humor and self-awareness put her work in league with the WWI poems of Sigfried Sassoon.