The New York Times
October 2, 2013
The Art of Work, Hard-Core Edition
By BLAKE GOPNIK
BERLIN — Along an elegant street here, through a stylish fashion showroom, then into a messy back office, Omer Fast, 41, sits watching pornography on his computer — a smacking, thwacking foursome that's barely describable.
Mr. Fast is a video artist, so this is work, not play. All that flesh is raw material for his latest piece, with its premiere set for Oct. 17 at the Frieze Art Fair in London, in an adults-only booth belonging to the Berlin gallery Arratia, Beer. It's hard to know if Mr. Fast's dealers should expect a line or a visit from the vice squad.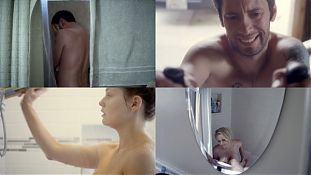 "I can show it as nasty as it gets, or I can pull back," Mr. Fast said. It's not a provocative piece, he insisted, but he still has to decide what to include. He said that in the final edit, an erect penis is bound to be prominent. "It would be totally hypocritical to clean it up."
Mr. Fast has dealt with difficult material before. There was "Godville," a 2005 installation whose bravura editing made figures out of Colonial Williamsburg seem to voice angry modern feelings about war and race. More recent works, about the wars in Iraq and Afghanistan and the deaths caused by American drones, have won Mr. Fast attention at the Documenta festival in Germany, at the Venice Biennale and at the Whitney Biennial in New York, where in 2008 he won the $100,000 Bucksbaum Award. Reviewing the solo exhibition that came with that prize, the critic Holland Cotter, in The New York Times, called Mr. Fast "amazingly good and getting better."
Mr. Fast said that his dealer's invitation to Frieze sent him seeking a worthy topic; pornography won out. In August, Mr. Fast turned a Los Angeles vacation with his wife and two children into a chance to dig into that world. He got access to the cast and set of a film, then brought in a crew of his own to shoot the making of that film. His approach promised to explore the day-to-day labor of pornography — "it is very, very mundane, on a daily basis, probably like working at Walmart," said Mike Quasar, the film's producer.
Mr. Fast said that his goal was to keep his own final product balanced between being "arguably pornography, but also arguably art."
A few weeks ago, Mr. Fast arrived for a weekend in Boston, where a new video space at Brandeis University's Rose Art Museum was being opened with his piece on drone pilots. "In my view, he is one of a handful of the best video artists in the world," Christopher Bedford, the Rose's director, said. He particularly admires how Mr. Fast's edits first ensnare our attention, then keep us working to untangle content.
Speaking from Boston by Skype, Mr. Fast said that, at the Frieze installation, four monitors will screen his documentary footage of four porn stars — from the moment they wake, through their sweaty work day, to their return home — which will be intercut with fictional story lines. One story involves thieves stealing dinosaur eggs; another is set in a sound studio, where an actress reads a script about illegal border crossing.
Mr. Fast said that these fictional threads would act as an "oasis" from the "sticky, sweltering" sex, and that they enrich a narrative that might otherwise come too close to melodrama. To balance the anxieties produced by pornography, he explained, "I need the absurd, I need the humor, I need the surreal."
No matter how many detours Mr. Fast throws into this piece, however, there's still a risk that it may attract eyes more as pornography than as art. "So be it," Mr. Fast said. He said that pornography is too central to our culture to be glossed over by artists, or for them to be scared off.
Mr. Fast is a compact man with short dark hair. At his desk in Berlin, he wears a black polo shirt over gray jeans and gray running shoes. He was born and raised in Israel, but spent much of his teens in New York. He said that his split identity — Israeli and American (he's a citizen) and now also German — has helped shape him and his art: People who cross between cultures have a better grasp of how much of any one culture is provisional.
Mr. Fast moved to Boston for a bachelor's degree, split between English, at Tufts University, and art at the School of the Museum of Fine Arts, then returned to New York for a master's degree in art at Hunter College. He recalled that the fractured urban fabric around Hunter's campus was a big influence: "New York was our school. New York was our laboratory."
He got a job doing magazine layout, then met his wife, the designer Anuschka Hoevener, who was studying fashion in New York. He followed her to Berlin. "On Sept. 1, 2001, I moved here from Downtown Manhattan," Mr. Fast said, maybe gaining the remove that he's used to make work about America's subsequent foreign adventures.
Mr. Fast said that his next project would be a feature film, his first, adapted from a novel called "Remainder" by Tom McCarthy: A man loses his memory in an accident, wins a giant settlement then spends millions of dollars building impossibly elaborate sets that reconstruct his past. Mr. Fast has added his own twist to the plot, looping the timeline so that the story's beginning connects to its end.
That may be asking filmgoers to accept the kind of challenge Mr. Fast dishes out to viewers of his art. "My biggest fear is that it's going to disappoint both," he said.
Judging by his past, it might also enthrall them.
More in Art & Design (3 of 51 articles)
The Week Ahead | Art: Shhh. Silence Being Observed.
Read More »