Till 28 February 2014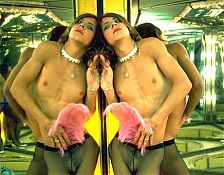 On the 40th anniversary of 'Transformer: Aspects of Travesty' – a groundbreaking show curated by Jean-Christophe Ammann in 1974 – Richard Saltoun Gallery announces a re-proposition of the original exhibition, that will reunite all the artists, in London. This is the first such reunion to commemorate the exhibition which deals with the aesthetics of desire and sexuality through travesty and drag performance.
Transformer will include works from all the artists featured in the original exhibition: Luciano CASTELLI, Jürgen KLAUKE, Urs LÜTHI, Pierre MOLINIER, Tony MORGAN, Luigi ONTANI, Walter PFEIFFER, Andrew SHERWOOD, Katharina SIEVERDING, Werner Alex Meyer (alias Alex SILBER), THE COCKETTES and Andy WARHOL.
Transformer looks back at the '70s contemporary society and art practice, considering the aspects of transvestism and sexual self-reflection in art. The exhibition takes its title from the seminal 1972 album by Lou Reed, finding its parallel in the worlds of fashion and glam-rock. Transformer examines the politics and aesthetics of transgressing identity and at the disruptive sexualisation of masculinity by incorporating characters usually labelled as 'feminine', as Brian Eno reflected with a text written for the original catalogue. The exhibition opened at the Kunstmuseum Lucerne, Switzerland and was an extraordinary cultural event: the opening was recorded by Swiss TV and it toured later to Germany and Austria. Whilst the exhibition received no publicity in the UK, it has been influential for art theory and history, since it was the first occasion that sought to theorise transvestism and which explored non-normative sexualities and the production of identity.
References to Transformer have recently appeared in Glam! The Performance of Style, Tate Liverpool, Kunsthalle Frankfurt and Kunstmuseum Linz (2013) and in A Bigger Splash: Painting After Performance, Tate Modern (2013). The exhibition at Richard Saltoun Gallery will contain the sexually explicit content of the exhibition and show the lesser-known artists originally included.
giulia@richardsaltoun.com