The New York Times
October 16, 2013
Making Opera of Art and Vice Versa
By MICHAEL COOPER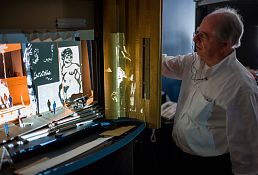 As a flickering projector beamed film fragments and India ink drawings into a dollhouse-size model of the Metropolitan Opera's gold proscenium in a small workroom not far from the real stage, the artist William Kentridge was explaining how some of the embryonic images flitting by would be developed over the next two years into his new production of Alban Berg's "Lulu."
"One has to think of the black ink as blood," he said at a recent workshop, with his production team, "and the brush mark as a dagger stroke."
Two years might seem like a long time to work on a new opera production. But when it is by Mr. Kentridge, who is following in the footsteps of major visual artists like Picasso, Chagall and David Hockney in making the leap from gallery to stage, a long lead time is essential: his opera productions, like many of his museum pieces, are known for the painstakingly drawn animated films he creates.
"For some films, I spend nine months to do six minutes," Mr. Kentridge said. "So to do three hours, even in two years, it's kind of slapdash. It's not all animation, obviously. There are static images, things that move in a different way. But it's a slow kind of image-making."
That image-making, in short animated films and drawings and typography projected onto scrims and sets, helped Mr. Kentridge give a zany energy and a Constructivist look to his popular 2010 production of Shostakovich's "Nose" at the Met, which is being presented Thursday, Tuesday, and, in a live broadcast to movie theaters around the world, on Oct. 26. But the approach may be even better suited to a piece like "Lulu."
"Lulu," Berg's final opera, is in part about art: It features an artist who falls in love with a femme fatale after painting her portrait. And in the second act it calls for a silent film — which might be tailor-made for Mr. Kentridge, who is as well known for his videos as he is for his drawings, sculptures and tapestries. (He is in charge of the production's direction and design, working with the same team of artists with whom he created "The Nose.")
"Those were things that kind of easily drew me to it," said Mr. Kentridge, who explained that his "Lulu" was being inspired by German Expressionism, Weimar cinema (including, of course, "Pandora's Box," the G. W. Pabst version of the Lulu story starring Louise Brooks), Max Beckmann drypoints depicting brothels and the like, and other art projects he is working on. "But boy, there's a lot of other stuff as well."
Three years ago The New Yorker wrote of Mr. Kentridge that it's "hard to remember when a visual artist has cut such a wide swath in the city's cultural life." If anything, the swath has continued to widen: in addition to the Met's revival of "The Nose," the Marian Goodman Gallery in Manhattan has a Kentridge exhibition running through Oct. 26, and the Metropolitan Museum of Art is showing a selection of his works called "In Praise of Shadows" through Feb. 2 and plans to display his video installation "The Refusal of Time" next week.
His "Lulu," a coproduction of the Met, the English National Opera, the Netherlands Opera and the Canadian Opera Company that is expected to have its premiere in 2015, will be developed in cities on three continents — in Johannesburg, where Mr. Kentridge lives, New York and Brussels.
Last month Mr. Kentridge, 58, wearing his customary white Oxford button-down shirt, open at the neck, and peering occasionally through a pince-nez, met with his production team backstage at the Met, when they were all gathered to work on the revival of "The Nose." They hooked a projector up to a laptop, aimed it at a miniature set and watched, with the 12-tone music of Berg playing, as live films were interspersed with Rorschach-like ink spots morphing on the pages of a dictionary — with occasional cameos by Mr. Kentridge's hands, wielding a brush or turning the pages.
"We shot it trying to see how far, how grotesque, the images could be," he said of one film.
A funny but nightmarish section of a silent film shot in Johannesburg featured a black-and-white montage of, among other things, a man smoking a comically large cigar as gunshot wounds appear on his chest; a Louise Brooks-like Lulu figure holding a pistol spewing a stream of smoke; a dancing policeman; a judge with the overdone eye makeup of the silent-film era; a very creepy doctor; and a syringe oozing smoke.
As snippets flew by, Mr. Kentridge weighed in on the footage: "I hate that." "That section's good!" "We like that." Later he said it was not clear how much of the film would make it into the finished product.
There were practical considerations, too. Should the architectural details, like moldings, be physically part of the sets, or projected onto them? How graphically simple could the costumes be, so Mr. Kentridge could use them as a reference for his drawings? Even the wallpaper was discussed: he nixed one suggestion, saying, "It's just too busy, too much to try to see your singers and that."
Mr. Kentridge, who was able to create an installation and solo performance piece, "I am not me, the horse is not mine," out of work he developed while directing "The Nose," said that some of his ideas for "Lulu" might not fit in the finished opera but could work elsewhere.
"You could have a whole exhibition of things that we've done, which are interesting but which don't work," mused Mr. Kentridge, who called such creations "false beginnings."
More in Art & Design (4 of 49 articles)
One Met Isn't Enough
Read More »