Singular Art, Made by Plurals
Yams Collective Brings Work to Whitney Biennial
By FELICIA R. LEEFEB. 21, 2014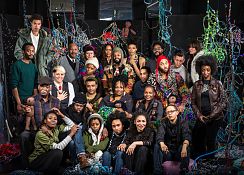 Several members of HowDoYouSayYaminAfrican? in a studio in Dumbo, Brooklyn, surrounded by hanging bead sculptures by Sienna Shields. Karsten Moran for The New York Times
In Sienna Shields's spacious studio in Dumbo, Brooklyn, with homemade rag dolls decorating one wall and hair-bead sculptures dangling from the ceiling, the mood was festive one recent frigid night. The Yams, as members of her high-energy artist collective call themselves, danced, sipped wine and traded tales about projects. "If you're doing it, I'm in it" was a frequent refrain.
Yams is shorthand for HowDoYouSayYaminAfrican? (translation: How Do You Say Yam in African?), the playful, provocative name for a band of 38 musicians, poets, actors, writers and visual artists from around the world. Mostly black and mostly queer, by their own definition, they convened in New York to complete their first public project, instigated by Ms. Shields, an abstract artist. Their debut on March 7 will be on a distinguished international stage — nothing less than the 2014 Whitney Museum Biennial — with a digital film about how race haunts black identity, told in operatic form. Many sets are sculptural installations; the original score is spoken, chanted, sung and screamed. With the opening two weeks away, it's nail-biting time for the Whitney curators, who consider the group an irresistible new voice but have yet to see the film.
Launch media viewer
Ms. Shields, director of "Good Stock on the Dimension Floor: An Opera." Karsten Moran for The New York Times
The Yams are the largest of eight collectives in a show whose demographics are always dissected for how they reflect the contemporary-art scene. "It's been like group therapy for me to do this project," Ms. Shields, the director of the Yams' film, said. "I'd go to art events, and I'd be the only black person in the room — here in New York. It was ridiculous: There's all this vast talent. I thought of all the great people I'd known in my years in New York and I thought, 'Let's exert ourselves!' "
In many ways, the Yams personify the challenges of collectives and the informal and unexpected way they work. In the 1980s, when collectives first appeared at the Whitney Biennial, they tended to be more ideological and more fixed in their identity. Donna De Salvo, the museum's chief curator and deputy director of programs, said the form is "extremely vital," offering opportunities in an art market that has become harder to penetrate. The Internet and social media allow artists to come together over many miles, and, as lines blur between disciplines, collectives fulfill the greater need for collaborations.
Ms. De Salvo pointed out that this year's are more fluid and diverse than ever. Public Collectors, for instance, is maintained by a man in Chicago who reaches out to collectors around the country, asking them to make their artifacts public. (Their biennial contribution is an installation on the life and work of Malachi Ritscher, a Chicago-based documentarian who immolated himself.) Critical Practices Inc., working out of the Chelsea loft of its founder, Saul Ostrow, sponsors invitation-only discussions, publishes text material and art, and hosts art shows and performances. "We're producers in the Broadway sense — we facilitate, organize, promote and support," Mr. Ostrow said.
(The members contend that they are technically not a collective because they are incorporated.)
The Yams have worked together in other iterations over the years, but were not formalized as the Yams until last summer, when Michelle Grabner, one of the biennial's three curators (with Stuart Comer and Anthony Elms), visited Ms. Shields's studio and spied two minutes of a curious video that Ms. Shields and friends had made in Alaska, showing women dancing against a glacial landscape. Ms. Shields explained how she had worked with dozens of other artists now in the collective in an extended family whose members sometimes lived together and shared ideas and projects. Ms. Grabner, an artist and professor at the School of the Art Institute of Chicago, agreed that Ms. Shields and her group could make a film for the show.
"Collectives in the past performed a critical role that poked at art world hierarchies and its cult of the individual genius," Ms. Grabner said recently in an email. "Art collectives function differently today, and although they are still an efficient means of artistic production, they also allow for a fluid coupling and uncoupling of all sorts of people and ideas. They reflect the proficiency of our networked culture. Authorship has become very slippery, and the ownership of ideas has become less interesting today than the rapid sharing of them."
The film, still being edited, is called "Good Stock on the Dimension Floor: An Opera," a 53-minute digital work in 35 parts. The libretto was written by Dawn Lundy Martin, a poet and assistant professor of English at the University of Pittsburgh whom Ms. Shields discovered online years ago.
"Sienna gave me free rein to imagine whatever I wanted to imagine," Ms. Martin said. "I listened to a lot of people. I wrote it and sent it to them with fingers crossed. It helped that I wasn't there when they were working on the video, the music and the dance."
Skype, email, telephone, text and airplanes followed, allowing Yams to collaborate from such far-flung places as Seattle; Paris; Edmonton, Alberta; and Los Angeles. They traded long riffs on the meaning of terms like post-black and post-racial. There were times when no one could decipher who had sent what message, Ms. Martin recalled — and they relished the marriage of ideas from many authors.
"We all learned different skills and sharpened the skills we had," Ms. Shields said.
Gregory Sholette, an assistant professor of studio art at Queens College and an editor, with Blake Stimson, of the book "Collectivism After Modernism," said the number of collectives has "grown exponentially" since the 1970s, when government funding for the arts began to dry up.
"The opportunities to become noticed have diminished in the traditional sense," he said. "The dominant mode is almost tribal — get together, hang out, support each other."
That sounds like the Yams. The collective is not hierarchal and insists that it is uninterested in branding and marketing, but does want to continue to pool its talents.
Most of its members have flown under the radar over the years, performing in lofts, gay bars and cabaret nightclubs. Some are veterans of collectives like Dumba, a living space for queer artists in Dumbo that disbanded around 2006 and produced several independent films. Ms. Shields, who has been romantically linked to the artist Chuck Close, though she would not confirm it, has shown at the Studio Museum in Harlem; Ms. Martin has published books of poetry; Christa Bell, a writer and performance artist from Seattle who contributed writing, vocals, acting and dramaturgy to the film, had a show at the Seattle Art Museum. Kyp Malone, a musician and composer in Brooklyn, is a member of the band TV on the Radio.
"We share a kind of political perspective, but it is more diffuse than those of the 1980s or 1990s," said V. Mitch McEwen, a principal of McEwen Studio, a design practice based in Brooklyn, who helped construct sets and also rapped parts of the libretto. "We're not so much claiming a demographic territory," she said, but examining the question of what makes art universal.
And the name? The yam is a root central to African cuisine, evocative of the continent and the African diaspora. And saying something "in African," of course, is impossible, since "African" is not a language. They all liked the irony, Ms. McEwen said.
The Yams, who are mostly in their 30s and 40s, now face that inevitable question: How do you keep it going? There is the possibility that the video opera will live on as a theatrical production. The Yams have a small house with a leaky roof, no plumbing and no fixtures in southwest Detroit (purchased for $1,100 by Ms. McEwen), which could be used as a site.
"The biggest challenge is that people get caught up in other projects," Ms. Bell said. "But we love working together." She added, "I don't feel the Whitney is the end or the beginning — it's a wonderful, wonderful opportunity on all of our paths.