The Shaw-Flanked Pretension: Raqib Shaw Hits New York for First Gallery Show Since 2005
'Oh, sweets, all this is new. Darling.'
Dan Duray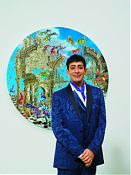 Mr. Shaw with a work of his. (Courtesy Pace Gallery)
When I first met Raqib Shaw, the Kashmiri pop painter who lives in London and recently opened a three-part show at Pace Gallery's Chelsea spaces, he'd arrived 20 minutes late to the mid-block gallery, this after having pushed our meeting a half-hour later. When he did arrive, it was with a group of middle-aged women, who I assumed were collectors, along with Andrea Glimcher, Pace's director of communications, who towered over him in heels. She'd brought her son with her, a small blond boy who shortly after arriving laid face down on the floor. "Oh, don't mind him," Ms. Glimcher said. "He thought he was going to the Natural History Museum today."
Mr. Shaw's speech style is equal parts Andy Warhol and P.G. Wodehouse character—he apologized for the late arrival and said he'd been up until 7 a.m. the night before (with that group of women) because they simply had to watch the sun rise over Central Park from his room at the Mandarin Oriental.
"Oh, sweets, all this is new," he said as he walked into the show. "Darling."
He proposed we tour the show with Daniela Gareh, "my home dealer, the London dealeress," of White Cube, where his work reportedly sells for seven figures (his auction record, according to Artnet, is an impressive $5.5 million). Then we'd take in Paradise Lost, a 60-foot epic of nature and apocalypse that he hopes will one day span 170 feet and whose newest panels hung at another Pace gallery at the end of the block, their debut the reason for his first New York gallery show since 2005.
His works are fantastic landscapes of enamel-like paint, jewels and humanoid animal creatures that lend each painting a vibe not so different from that found on the cover of a heavy metal album. He said his favorites in the show were the group of night scenes, because you can't tell the light source for the works ("blue lasers," he said).
"Oh, my dear," he moaned, when asked how long each takes him to make. "Time does not exist!" He broke out of the fake swoon for a joke. "Five minutes. Ha ha ha ha!"
As we approached a painting that features zebra-people hybrids, I pointed out how many of his works seem to have people hanging by chains in them.
"My darling, because that is exactly how I feel like every single morning when I wake up!" He yelled. "Suspended! Suspended. Suspended! Ahghahaha, ahaha!"
Ms. Gareh and I waited for him to finish. So, like, societally? Or just hungover?
"In your existence," Ms. Gareh said.
In your existence?
"In existence," Mr. Shaw said. "Yes."
Mr. Shaw showed us a painting of Saint Sebastian that he didn't want to do (too "gay"), but an assistant at his studio who resembles James Dean begged him to do it, so he did.
"Every day, you are actually, uh, um, fixing a crumbling wall with Scotch Tape," he said, somehow related to this. "You have to do it every day, because every day you stop the crumbling. Then the next day, you have to do it again, because it crumbles, Daniela, doesn't it?"
"Sure does," she said.
"These are my crumbles," he said. He wandered off without us to another part of the gallery shouting, "Cruuuumbles!"
Outside, as we walked to the other Pace galleries at the end of the block, Mr. Shaw said he owed much of his success to New York and to the man who helped popularize his work at his old gallery downtown, Jeffrey Deitch. ("Have you seen him?" I asked. "You know he's back in New York." "Oh, sweets, I'm only here for two nights, no." "He's sort of dipping his toe back into the scene." "Of course, my dear.")
"My first show with Jeffrey Deitch was in 2005," Mr. Shaw said. "And the latest painting was, uh, uh," Mr. Shaw has a fashionable stutter, "bought by MoMA for their permanent collection."
"All the big paintings only went to museums," Ms. Gareh said.
"And I was like, 'What the hell is going on?' Because coming from the Himalayas, my dear, I am a mountain goat. And suddenly your work is at MoMA."
Why wait so long to do another show here?
"Because the work—it took all this time to be made, you know. And it's really— the whole idea is you get a lovely, lovely feeling of what exactly is going on in the studio at the Sausage Factory."
"His studio is called the Sausage Factory," Ms. Gareh said.
(W magazine recently ran a profile of Mr. Shaw that begins, "A former sausage factory is the last place you'd expect to find Shangri-la.")
"It's the place to be, Peckham," Ms. Gareh said, with irony.
Mr. Shaw howled.
"I always call it our distinguished neighborhood," he said. "This is really funny: There's a wall, a hole in the fence down the street, and across the wall — it's really fabulous—people kill other people! And they throw the knives on our property. I was like, oh, well."
He turned to Ms. Gareh. "Sweets. It's sillies."
"Ohhhh, my God," Ms. Gareh said as she stepped into the next exhibition. Inside, two statues of a trio of animal men fought or wrestled with each other. They wore thongs and futuristic boots, Mr. Shaw said, so that you could tell they were in the modern era. Beyond that, a tree sculpture was covered with animal men, each about the size and composition of action figures.
"People here loved the work. The tragedy is that in England everyone is so," he smacked his lips. "England has a problem with ambition. If you're ambitious—isn't it true, Dani, that England has a problem with ambition? If you're ambitious, you're hated."
"Yeah," Ms. Gareh said. "If you're the underdog, you're loved, but then as soon as you're successful …"
"You're finished!" Mr. Shaw groaned. "Ha ha! Everyone so dislikes you!"
Mr. Shaw continued to laugh like a machine gun. Was it the work that was too ambitious, or was it his attitude?
"I think it was both, actually," Mr. Shaw said, with sudden seriousness.
But Mr. Shaw seems fairly unconcerned with people, what they think of him. Given that, was his success at all surprising to him?
"Well, I think that people are crazy when they say they like my work," he said. "I find everything rather mediocre."
"Wow!" Ms. Gareh said as she saw the long panel of Paradise Lost, which at Pace took up an entire lofty wall and showed monkey men climbing mountains and, at the other end, tiger men being tortured, suspended by chains.
"Oh, my God," Ms. Gareh added.
What made him want to do a painting on this scale?
"My darling, because I wanted to justify my existence to myself on my deathbed," he said.
Mr. Shaw pointed out some "glorious cannibalism" and speculated that, while he personally does not have sex, "one can imagine things, if not physically, you know," and he trailed off. Ms. Gareh wanted to talk about a shattered mosaic in the apocalyptic end of the painting, though Mr. Shaw implored her not to "talk about the fucking mosaic," because it "got fucked up so many times" that it "had to be" the way it was now. It was based off a drawing he did while bedridden, with his Jack Russells.
"Sweets, I do not have family or friends," he said. "I just have my dogs. Just the two. Can't do more than two; they're like children."
"Mr. C," Ms. Gareh said. (That's one of the dogs' names, according to W.)
Soon, Ms. Glimcher, her son and some collectors joined Mr. Shaw in front of Paradise Lost. Mr. Shaw told Ms. Glimcher that the funny thing about his dogs is that they're not good with "greedy people" and that "when certain fuddy-duddies come to the studio" they attack them.
"I shall not name any names!" Mr. Shaw said and snorted.
"Yes, no, that's good," Ms. Glimcher said. "That's very polite of you."
"I shall not name any names," he repeated.
"No, no, no, not necessary," Ms. Glimcher said.
"But it's unbelievably consistent," Mr. Shaw said.
"But how great is that?" Ms. Glimcher said. "That's like a gatekeeper for you!"
"Yes. He's examiner of the soul," Mr. Shaw said.
"What's the name of the dog that stands at the gates of hell?" Ms. Gareh asked.
Mr. Shaw and Ms. Glimcher walked to the apocalyptic section of the painting, where they discussed how Mr. Shaw models the suspended figures in his paintings from life, hanging studio assistants, or whoever wanders through, from the ceiling of the Sausage Factory. "Do you remember that poor little rent boy?" he asked an assistant on hand, showing the figure that was based on him.
"I'll send [Pace founder] Arne [Glimcher], over to that section; it's very Agnes Martin-esque!" Mr. Shaw said, gesturing. (The minimalist is known to be one of Mr. Glimcher's favorites).
"And that's you, that figure hanging there," Ms. Glimcher said. "That's what you told me in the studio that day."
"Yes, yes, yes," he said. "Skinned alive."
"Yes," Ms. Glimcher said. "By this exhibition at Pace."
"Why are they falling?" Ms. Glimcher's son asked.
"What? What, sweetie?" Ms. Glimcher said. "Why are they falling? I don't know. Let's ask the artist. Why are they falling?"
Why are they falling? Mr. Shaw stared ahead blankly, apparently unable to come up with an age-appropriate answer.
"They're falling to come up again," Ms. Gareh cut in, possibly quoting the most recent Batman movie. "They'll rise. They're descending, and then they'll come up again. It's kind of like flying."
Ms. Glimcher asked if I had everything I needed and said she'd heard that I was going to speak with Arne Glimcher later for the piece.
"Ask Arne some rather serious questions, please," Mr. Shaw said. "Grill him. Ha ha ha!"
"What should I ask him?"
"I don't know. Just make his life difficult!" he said.
"Because it hasn't been enough already," Ms. Glimcher said.
Mr. Shaw shrieked. "He'll put him in a spot."
Ultimately Mr. Glimcher didn't say much on the phone. He compared Mr. Shaw to Henri Matisse, Hieronymus Bosch, Takashi Murakami, Jeff Koons and Damien Hirst and said Mr. Shaw has a very "original" personality, much in the way of Jean Dubuffet and Agnes Martin, with whom he'd been close.