One of the leading artists of her generation, Lorna Simpson came to prominence in the mid-1980s through her photographic and textual works that confronted and challenged conventional attitudes toward race, gender, and cultural memory with a potent mixture of formal elegance and conceptual rigor. Since the late 1990s, Simpson has extended these concerns into a series of film and video installations and large-scale photographic works printed on felt.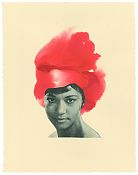 Lorna Simpson: Works on Paper highlights a recent body of work that explores the complex relationship between the photographic archive and processes of self-fashioning. As in Simpson's earlier works, these new drawings and collages take the African-American woman as a point of departure, continuing her longstanding examination of the ways that gender and culture shape the experience of life in our contemporary multiracial society. This will be the first museum exhibition dedicated to Simpson's drawings and collages—including a new series of works created during her tenure as the Aspen Art Museum's 2013 Jane and Marc Nathanson Distinguished Artist in Residence—and will be accompanied by a fully illustrated, scholarly catalogue.
Lorna Simpson's Jane and Marc Nathanson Distinguished Artist in Residence residency and exhibition are organized by the Aspen Art Museum and funded by Jane and Marc Nathanson with additional support from Rona and Jeffrey Citrin. Publication underwritten with major support from Toby Devan Lewis. General exhibition support is provided by The Andy Warhol Foundation for the Visual Arts. Exhibition lectures are presented as part of the Questrom Lecture Series and educational outreach programming is made possible by the Questrom Education Fund.
ARTIST BIO Lorna Simpson (born 1960, Brooklyn, New York) received her BFA in Photography from the School of Visual Arts in New York and her MFA from the University of California, San Diego. Her work has been widely collected and exhibited by such institutions as the Museum of Modern Art, New York; Walker Art Center, Minneapolis; Studio Museum, Harlem; and Irish Museum of Modern Art, Dublin; among others. In 2006–07, her mid-career survey was exhibited at the Museum of Contemporary Art, Los Angeles; Miami Art Museum; Whitney Museum of American Art, New York; Kalamazoo Institute of Arts; and Gibbes Museum of Art in Charleston, South Carolina. Simpson's exhibition at the AAM coincides with her first major European retrospective at the Jeu de Paume in Paris.