The New York Times
October 11, 2013
Kerouac's Mexico
By DAMIEN CAVE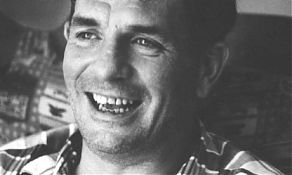 I found Jack Kerouac's Mexico on a strip of beach that separated the old hotels from the heaving Pacific, at a bar near where he sat on the sea wall and watched the sunset 61 years ago.
My best friends in Mazatlán, whom I had met only a day earlier, were behind me arguing and laughing. But with a beer in hand and my own perfect view of daylight's final yawn, I was too blissed out to talk. The crashing waves sounded like drums, and everyone in the water seemed to be dancing: a tangle of teenagers splashed around and flirted, their wiry limbs shimmering like lures, then came a dazzling woman wearing a bathing suit of rainbow stripes, her bare feet catching the surf, her long hair waving in the breeze.
That moment was the closest I got to channeling Kerouac on my journey inspired by his 1952 bus trip from the Arizona border to Mexico City. The scene before me called to mind the Mazatlán he described to Allen Ginsberg: "hot and flat right on the surf, no tourists whatever, the wonder spot of the Mexicos really but nobody hardly knows, a dusty crazy wild city on beautiful Acapulco surfs."
Still, I wondered, how much did Kerouac's romantic vision match up with reality?
Mazatlán is one of the many places that the Beats used to bolster the idea of Mexico as the destination for debauched recreation and self-discovery. Hollywood headed south first (Errol Flynn and John Wayne vacationed along Mexico's Pacific coast), but Kerouac and William S. Burroughs, who moved to Mexico City in 1949 to avoid a drug charge in New Orleans, laid down in literature a charmingly simple notion of the country that has endured.
Kerouac was a mythmaker in many respects. His writing turned struggling friends into epic heroes, and persuaded many youthful vagabonds (my former self included) to go now, to find saints among the sinners. Along the way, he created an impression that he and his ilk were not tourists, but rather ideal American travelers, engaged and sensitive, "desirous of everything at the same time," as he wrote in "On the Road."
But really, his "everything" was limited. Kerouac came to Mexico a half-dozen times in the '50s and '60s to experience greater freedom with drugs, drinking, writing and sex, in roughly that order. He stopped in Mazatlán for only a few hours, and though he told Ginsberg that sitting along the coast with his new Mexican friend and guide, Enrique, "was one of the great mystic rippling moments of my life," he also insisted on hopping back on the bus to hurry on to Burroughs in Mexico City.
"Kerouac never took Mexico very seriously," said Jorge García-Robles, a Mexican editor who has written several books about the Beats in Mexico. "It was a symbol more than something real."
That attitude has been shaping Mexico ever since. Even now, as a correspondent here since 2010, I often see links between the idyllic American fantasy and Mexico's most obvious failures (security) and triumphs (contemporary art). But Kerouac was a pioneer. And as a follower, I wanted to see where he went right or wrong, and what had changed since he helped define Mexico for millions of readers. Following the route from Mazatlán to Mexico City, I hoped to figure out if his dreamy vision could still be found, even as I confronted some of the cold, hard tragedies that many Americans miss.
As I sat soaking my feet in the rooftop pool at the renovated Hotel Freeman, Mazatlán's first hotel tower, I could understand why the gringos came. The view ran up and down the Pacific coast, from the green islands offshore to the winding road heading south toward Puerto Vallarta. A light breeze kept me cool. The only sound came from the old elevator lurching to various floors.
It was the 1944 original, and initially quite a marvel. In old photos from its early years, the hotel towers over its neighbors, like a beacon of modernity — or a greedy grab for business. The builder was the son of Americans and even before the high-rise appeared, American ambition had put its stamp on the city. The first regular visitors to Mazatlán were 49ers, mining executives who used the port to reach rich mineral deposits farther inland. Their early rustic hotels for workers naturally led to greater ambitions. In addition to the Hotel Freeman and a few other properties on the main drag of Olas Altas, Americans also built the first beachfront resort in the tourist-centric Zona Dorada, or Golden Zone, a few miles north.
The early developers were betting on the growing desire by Mexico's northern neighbors to vacation abroad, but with success came a predictable boom characterized by a boxy, generic style that would soon appear in Acapulco, Puerto Vallarta, Ixtapa and elsewhere. My newfound friends in Mazatlán, Dr. Juan Fernando Barraza and Victor Coppel, were among the many who disagreed on whether Mazatlán's rapid growth from the '60s through the '80s — with all-inclusive resorts, time sharing and cruise lines — changed the city for the better.
Over our first meal together, a lunch of coconut-crusted shrimp at the Pueblo Bonito hotel, Dr. Barraza, 62, argued that it was an era defined by excess. Sinaloa, the state where Mazatlán is, was already a major source of marijuana in the United States by Kerouac's time (a detail he had to know), but as American drug use increased in the decades that followed, Dr. Barraza said the easy money and the influence of American partyers gradually pushed Mazatlán from its simple roots.
"We haven't copied the best Americans, but the worst," said the doctor, who spent much of his career traveling the world as a physician on cruise ships.
Mr. Coppel, 60, a retired Mexican banker whose family has been influential here since the 1880s, insisted that it wasn't that bad: American visitors have lifted the local economy by spending more than Mexicans or Canadians, according to business owners. He also emphasized that Mazatlán has long been a hub for shrimping, fishing and trade, making it less like Cancún and "kind of like San Francisco."
Both my unofficial guides — relatives of a friend of mine in Los Angeles — did agree on one thing: Mazatlán was facing another moment of reconsideration. This city of 440,000 people now finds itself on the hungover side of a binge that began around Kerouac's time, and as with Mexico itself, it is often hard to tell whether the future should be met with optimism or despair.
After lunch, Dr. Barraza took us to a location that perfectly captured the uncertainty: an abandoned oceanfront home squeezed between two new high-rise apartment buildings on the main tourist strip.
Viewed while looking west from the house's patio, Mazatlán was a promising paradise: soft sand, warm water and a sea rich with shrimp and tuna. Turn around, though, and there was the graffiti-tagged house, formerly owned by drug cartel capos, followed by others. On the way to the Hotel Siesta, home to a Kerouac memorial plaque and the Shrimp Bucket — a restaurant founded in 1963 by the same Mexican and American partners who created the apex of night-life cheesiness, Señor Frog's — we drove by another empty drug mansion and its adjacent nightclub. It had been closed for years. With giant fake rocks on the facade, it looked like a Disney prototype on meth.
That night we had dinner with a few Mazatlán intellectuals at a restaurant owned by Alfredo Gómez Rubio, the raspy-voiced president of the Centro Histórico Project, which is renovating the city center to draw people back from the Zona Dorada. With outdoor seating on the main plaza, the area is a centerpiece of the remodeling efforts, but when we arrived, I had just checked into the El Cid Castilla Beach, one of the best-known "Golden Zone" resorts. It was a total disaster. First the hotel staff overcharged me by nearly $500; then they ran out of towels at the pool.
Mr. Gómez Rubio called the whole tourist zone a mistake. "There was no concept or style," he said. His restaurant by the main plaza, Pedro & Lola, couldn't be further from that description. It featured a tasty menu heavy on shrimp and featured redwood beams brought from California in the 1850s. Mr. Gómez Rubio also owns the Hotel Melville a few blocks away (the author of "Moby Dick" visited in 1844), and he was a fan of Kerouac. As soon as I sat down, he showed me a worn Kerouac paperback with Spanish text and pink highlighter tracked over a paragraph that started "oh the sacred sea of Mazatlán" and ended with Kerouac praising "the city of the innocence."
Mr. Gómez Rubio insisted that Mazatlán still deserves to be called a paradise. He said the drug violence that scared off Americans and cruise ship operators — it peaked in 2011, when a Canadian tourist was shot in the leg while caught in the cross-fire — was back under control. With gang warfare and street crime returning to lower levels. Mexican tourists were filling the void left by Americans, he said, and retirees were moving in. "We're shifting the market," he said. "We're learning."
I wanted to believe it. At times, I did: drinking that final beer and eating ahi tuna at La Corriente; walking through El Quelite, a tiny town 20 minutes outside Mazatlán, where a local doctor turned his family home into a full rural experience, with food, animals and a kitschy performance by a Mexican cowboy.
But there were still so many dark omens. Kerouac's vision of Mazatlán — and Mr. Gómez Rubio's — left out the consequences of the Mexican lawlessness that, while allowing for epic highs, also produces refugees who are moving into fields on the city's edge because teenagers with guns and dreams of cartel riches are demanding money to live in their rural mountain villages. Thousands of displaced families now occupy the no man's land between El Quelite and new beachfront developments, and I found them only with help from Dr. Barraza and Mr. Coppel. That is where I met José Enciso Loaiza, who was hammering together a bed near a new slum named Las Vegas. He said 70 of the 90 families in his small town had already fled because of violence and government impotence. His life, from the pastoral to the punishing, was literature begging to be written.
When Kerouac reached Mexico City at dawn after a long bus ride through Guadalajara, he caught a few hours of sleep in "a criminal's hovel," then made his way to Burroughs's house in La Roma, a turn-of-the-century neighborhood of grand old homes that was starting to slip into disrepair. Kerouac was supposed to meet up with Enrique later, but his heart wasn't in it; he never told him where Burroughs lived, and then Wild Bill "persuaded me to stick to him instead of Enrique."
With that, Kerouac lost "a guy who could teach me where, what to buy, where to live, on nothing-a-month" and instead joined Burroughs's insular world of Americans supposedly studying at a small college in La Roma that accepted payments from the G.I. Bill. Kerouac had visited in 1950 with Neal Cassady (the inspiration for Dean Moriarty in "On the Road") so he knew what to expect: rowdy gringos; a chance to drink and write, maybe fight, maybe love.
My arrival in La Roma after an overnight bus with lots of Mexican college students and fully reclined seats could not have been more different. It started with Alonso Vera Cantú, 33, a minor La Roma celebrity known as Pata de Perro — slang for someone with wanderlust — dragging me to a cramped breakfast counter for an almond latte and a sublime pastry drenched in olive oil and sugar. I had found Mr. Vera Cantú through his neighbor, a host of the popular local Twitter feed @LaRomaDF, and he clearly knew what he was doing. The coffee shop, La Panaderia, was relatively new, and between the food, the classical music, and the thin young women in tight houndstooth skirts, it could have been Paris.
That was La Roma's original ideal; the neighborhood was mostly American-built and French-inspired. But more recently, something more Mexican and contemporary has begun to emerge. Indeed if Mazatlán reflects what can go wrong when American excess mixes with Mexican impunity, La Roma represents what can go right when Mexicans with a taste of the world zero in on a single community.
As recently as 2000, the area was in serious trouble: seedy and old, marked by crumbling homes condemned after the 1985 earthquake and strip clubs lousy with lap dances. In some ways, it had reached the logical end point to what Kerouac enjoyed and wrote about in "Tristessa," his novella about a Mexican prostitute. But its spaces were too good to give up, and eventually creative types moved in.
"When we started, it was rough," said Walter Meyenberg, who opened the area's first mezcal bar (La Botica) nine years ago when he was 27. "My first six months here, I was assaulted five times." His arms were covered with tattoos as bright as flames. "La Roma's like the meatpacking district in New York," he said. "It's going from rough to trendy to mainstream." That's when it's ruined, he added.
For now, though, the neighborhood seems to be lingering in that sweet spot where rents are relatively affordable and whimsy thrives. A few blocks away from where we started, Mr. Vera Cantú — tall, with a head of tight brown curls — walked me into an old town house with a boutique on the first floor called 180º. The owners, José Carlos Iglesias and Bernardo López, worked on the second floor, and on the third, they rented rooms for less than $100 a night to friends or acquaintances with creative projects. All through the building, from the century-old family photos to the new T-shirts and bags, the style was unmistakably Mexican, and undeniably worldly.
I remembered what Mr. Vera Cantú had told me earlier about La Roma: "You can have tacos one minute, Champagne the next." In this case, Mr. Iglesias, 37, had recently come back to Mexico (from working in Europe) to join Mr. López, 37 (who studied in Boston), for a romantic idea and a creative business — a fusion of past and present, Mexican and international.
All over the neighborhood, I saw a similar brew. "It's so much easier for Mexicans to get out of the country now," said Gerardo Traeger Mendoza, a co-owner of the Traeger & Pinto art gallery. "We've really reached a different point in terms of our relationship to the world."
Mr. Vera Cantú was another obvious example. A travel writer, radio host and online curator of La Roma experiences, he took off around lunchtime, heading to France. That left me time to look for where Burroughs had hosted Kerouac. Their section of the neighborhood was still a little run down, but almost every block had a cafe and a restaurant.
On one tiny street near Plaza Luis Cabrera, where the Beats used to hang out, I noticed a deli cooler that seemed to be rolling into the sidewalk. It was filled with fine cheeses from Mexico, Spain and France, and the longhaired man at the counter was the owner. After giving me a taste of some strong cheese from Chihuahua, he told me the empty shelves behind him would soon be filled with good wine, for under $10 a bottle. "It's for people who live in the neighborhood," he said.
As I suspected, food and drink — always strong in Mexico — were becoming catalysts for growth. But corruption was still holding things back. Business owners said permits typically require bribes. To some degree, they argued, not much has changed since corruption helped Burroughs flee a murder charge after he shot and killed his wife during a game of William Tell a few months before Kerouac's 1952 visit. Kerouac ran into it, too; he avoided trouble early on in his trip when caught with marijuana by giving the cop some of his stash.
But these days, at least in La Roma, there is also a new check on the usual abuse of power.
Consider the case of Maximo Bistrot, one of the best restaurants in La Roma if not all of Mexico. In April, a social media revolt kept government inspectors from shutting it down after the daughter of the director of Mexico's main consumer protection agency complained about not receiving the table she wanted. Then came an even greater coup: Enrique Peña Nieto, president of Mexico, fired her father, the agency chief.
When I showed up for lunch, the restaurant's chef and owner, Eduardo García, 34, told me there are now fewer patrons asking, "Don't you know who I am?" He said he still worries about inspectors, but he also refuses to pay anyone off. "I'm not going to live outside the law, with them in charge," he said. It was a bold statement, given how Mexico works.
But then Mr. García, bearded and broad-shouldered, is the son of migrant workers who took him north at age 5. He learned to cook in their restaurant in Atlanta before heading to Le Bernardin in New York, and though he could have opened a bistro anywhere, he did it here, in Mexico, in La Roma.
The result? My own Mexican paradise: French wine, innovative Mexican food, with 1960s American soul playing in the background.
It wasn't nearly as rustic or drug-fueled as Kerouac's version, but as I finished eating — a wonder of roasted red pepper soup and yellowtail sashimi with chiles and avocado — I tried to imagine what Kerouac would have made of it.
Maybe it depends on which Kerouac we imagine. He was 30 when he took that bus trip, and he was mostly too self-absorbed to see beyond the "frenzy and a dream" that defined his visit in "On the Road." Clearly, young Kerouac would have ignored Maximo Bistrot and the refugees in Mazatlán. But what about Kerouac as an old man? If he hadn't died from alcoholism in 1969 at age 47, maybe he would have moved to Mexico and tried harder to understand and explain the country.
Yes, I thought as I lingered at my table, indulging in another moment of Kerouac-inspired bliss. With more time alive and in Mexico, Kerouac could have been someone that Mexico and the United States still sorely need: a binational conscience. Imagine the trips he could have made, the complicated, multilayered stories he could have told about life on both sides of the border. Imagine the everything.
Reading List
"On the Road" by Jack Kerouac.
This novel hits its climax when Sal Paradise drives across the border with Dean Moriarty, speeding through what he describes as part of the "equatorial belly of the world," where the people "were not fools, they were not clowns; they were giant, grave Indians and they were the source of mankind and the fathers of it." His descriptions of Mexico City, from the traffic to the bars — where "you had to jump over a ditch to get your drink and the bottom of the ditch was the ancient lake of the Aztec" — reveal his adolescent wonder at the city's gritty juxtapositions.
"Tristessa" by Jack Kerouac.
The story of a love affair between an American and a drug-addicted Mexico City prostitute, Tristessa, includes the best and worst of Kerouac's tendencies: he imbues the Mexican underclass with dignity but also fails to explore the roots of his Mexican characters or the cause of their troubles. His romantic approach often leaves him confounded. When someone at a party takes his wallet, Kerouac's autobiographical protagonist blames himself: "you will see that this is just a case of wanted to be robbed," he wrote, "a strange kind of exultation and drunken power."
"Junky" by William S. Burroughs.
This autobiographical account, written in Mexico City, includes the line: "As soon as I hit Mexico City, I started looking for junk." Drugs were a big part of why the Beats came to Mexico, where marijuana had been grown for decades and where heroin had begun to appear in larger quantities around the time Burroughs arrived. Compared with Kerouac, according to scholars, Burroughs had less of an idealized attitude about Mexico, and Burroughs was far more open about how he used the country as a bazaar for highs and sex.
"Jack Kerouac and Allen Ginsberg: The Letters."
This fascinating collection includes correspondence between the two writers about Mazatlán and Mexico. The intimacy and concern that they express, for their community of writers and travelers, is an antidote to the more theatrical image that the Beats maintained later on.
"The Stray Bullet: William S. Burroughs in Mexico" by Jorge Garcia-Robles.
A wide-ranging account of Burroughs's formative experiences in Mexico, written by a Mexican scholar who spent most of his life in the La Roma neighborhood that Burroughs called home for several years. "The Stray Bullet" helps explain Burroughs's fascination with Mexico City and his contradictory attitudes toward Mexico and its culture.
"Mañana Means Heaven" by Tim Z. Hernandez.
The roots of Kerouac's love affair with Mexico may reach back to a bus trip in the '40s and a woman named Bea who became the "Mexican girl" or Terry in "On The Road." Through documents, interviews and dogged research, Tim Z. Hernandez pieces together her life and the significance of that chance encounter that shaped both of their lives forever.
Damien Cave is a correspondent for The New York Times based in Mexico City.