The Guardian home
David Hockney: a portrait of the artist as a gay man
Exhibition at Liverpool's Walker art gallery shows almost 40 early works that explore sexuality of celebrated British artist
Mark Brown
theguardian.com, Friday 11 October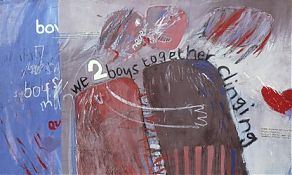 An exhibition celebrating the early work of David Hockney that explores the artist's sexuality and includes a painting of his art school pin-up, Cliff Richard, opens on Friday at Liverpool's Walker art gallery.
Almost 40 works have been brought together for the exhibition, which show what a powerful force the Bradford-born artist was from a young age. "There is such a lot of energy in his early paintings," said curator Ann Bukantas. "I find them quite exciting, and one of the things we wanted to do was take people back, away from the big, colourful trees and the iPad drawings to where Hockney started out."
The show includes a series of etchings from 1966 that the artist made in response to the poetry of Constantine P Cavafy, which he adored.
Hockney loved Cavafy's direct and simple poems about doomed homosexual love, and even went to Alexandria and Beirut, where many of the poems are set, to get in the mood.
On display at the Walker are 12 prints bought by the Arts Council Collection in 1966. "These are some of the best examples of figure drawing that people could ever hope to see," said Bukantas. "If you're an artist, if you're wanting to be an artist or if you're interested in David Hockney in any way, you will surely think these are absolutely beautiful."
Hockney in the 1960s was making work on subjects he knew and cared about – primarily being a young gay man when you really couldn't shout about it. He wanted to propagandise homosexuality.
Some of the earliest paintings, heavily codified, reflect his desire for the singer Cliff Richard. Also in the show is the important We Two Boys Together Clinging, inspired by a work by the 19th-century poet Walt Whitman. The painting references a newspaper clipping detailing a climbing accident – "Two Boys Cling to Cliff All Night".
The Walker owns the spectacular Peter Getting Out of Nick's Pool, which shows the naked Peter Schlesinger doing just that. It won Hockney the 1967 John Moores painting prize, and on show are photographs of a delighted Hockney receiving his winning cheque.
Hockney by then was already making a name for himself, but it was still an important award (the Walker points out that artists have only a fortnight left to submit works for the 2013 prize.)
Bukantas said they were keen to build a show around the painting, and have borrowed similarly themed works, including Man in Shower in Beverly Hills from the Tate.
The exhibition is being staged as part of Liverpool's Homotopia Festival 2013, and Bukantas hopes people will see Hockney as something of a gay hero.
"I hope people will see just how damned good an artist Hockney was, but also how brave he was. People forget that. He was a brave young man dealing not just with leaving home and going to art school but also with his sexuality and finding a successful, witty and quite cunning way of putting that across."
• David Hockney: Early Reflections is at the Walker until 16 March.