He's Back, in a Defiant Blaze of Color
By JORI FINKEL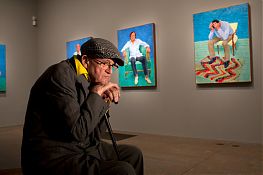 SAN FRANCISCO — Although it would be hard to tell from the volume of his work, David Hockney, now 76, has had a rough year. Last October, this celebrated British artist had a stroke, which left him unable to complete his sentences for a time. In March, one of his studio assistants in East Yorkshire, part of a tight-knit circle of aides, collaborators and former lovers, died in Mr. Hockney's home after drinking drain cleaner on the heels of a drug binge. And slowly but surely, Mr. Hockney's hereditary deafness has progressed to the point that he depends heavily on two hearing aids and still needs to lean in for conversations.
So it's not entirely surprising that Mr. Hockney, one of the greatest colorists since Matisse, found himself working exclusively in black and white.
He stopped using his iPad as a visual diary for colorful sketches that he would circulate to the delight of friends. Even his depiction of the arrival of spring in the East Yorkshire countryside looked rather bleak, with spiky trees and their thin gray shadows rendered in charcoal instead of the lush green-and-purple palette he used for the same landscape, same season, just two years earlier.
But part of Mr. Hockney's charm as a painter — and person — is a certain resilience or even insouciance, an unwillingness to abandon pleasure and beauty in the face of troubles. And his return to California this summer, after primarily living and working in England for the last eight years, has been accompanied by a return to color: not just any colors, but some of the famous cerulean and cobalt blues from his classic swimming pool paintings of the 1960s.
"Los Angeles has that effect on me," said Mr. Hockney, smelling faintly of cigarette smoke and dressed in a smart gray suit with a canary-yellow shirt setting off his blue eyes. "The light there is 10 times brighter than anywhere else. It's why Hollywood started there. Natural light was essential in 1910 for film."
With his cane at one side and his red iPad case once again at his feet, Mr. Hockney sat in a gallery at the de Young Museum here one day recently watching the installation of his massive new survey, "David Hockney: A Bigger Exhibition." Running through Jan. 20, the show features over 300 artworks made since 2002, including some Yorkshire landscapes from his 2012 blockbuster at the Royal Academy of Arts along with other landscapes and several series of portraits.
"I was always planning to come back because of the show," said Mr. Hockney, who has kept his home in the Hollywood Hills and archives and office on Santa Monica Boulevard. "But it's very nice to be back in California. I'm back for a while."
He was surrounded by 16 of his new vibrant portraits — all made so recently that they couldn't be included in the exhibition's catalog. "I like to think my latest work is the most interesting," he said in a throaty voice with a touch of English understatement. "I'm still a reasonably lively artist, I think."
The portraits were done in acrylics, a medium he began using during his first visit to Los Angeles in 1964, more than a decade before he called the city home. These days, "it feels like a new medium for me, because I haven't used it in 20 years," Mr. Hockney said. He described the intensity of working quickly with the fast-drying paint in just two or three sittings over a few days, in what the de Young's director, Colin Bailey, described as a "rush of creativity."
Over the decades, Mr. Hockney has worked in depth on various series, shifting from one medium to another — from paintings to Polaroids, theatrical stage sets to intimate line drawings, watercolors to digital images on iPads — as he shuttled between the United States and England.
Sarah Howgate, a curator at the National Portrait Gallery in London who wrote an essay for the San Francisco catalog, describes these shifts as fruitful. "In recent years, the making of portraits has often followed a period of large-scale activity and energy working en plein-air," she said. "The 'portrait periods,' involving fewer assistants, are generally calmer, more intense and introspective, perhaps, and they always take place indoors — in the studio or a domestic setting."
A few of the new works, like a portrait of a Los Angeles friend, Richard Sassin, seem rather cheerful. "He told me it was the greatest day of his life, being painted by me," Mr. Hockney said, sounding amused. But most appear more somber in expression. And the first color portrait he made upon his return to California in July is a powerful expression of grief. It shows his lead studio assistant, Jean-Pierre Gonçalves de Lima, slumped in a chair with his head resting in his hands, elbows on his legs.
The strident colors of the zigzag-pattern rug inject some high-voltage energy into the picture, not unlike the way van Gogh used vivid color contrasts to sharpen a look of sadness into anguish.
"I thought the rug was a little like his mind," Mr. Hockney offered. The sitter's pose was more directly inspired by van Gogh, modeled on his 1890 portrait "At Eternity's Gate" and an earlier lithograph of a war veteran. Mr. Hockney said he positioned his sitter that way because he was thinking about Dominic Elliott, his 23-year-old studio assistant, who died in March.
"That first painting of Jean-Pierre with his head in hands, we all felt that way then," he said. "We had a tragedy and that's how it felt."
The "we" hangs in the air. So the painting was also a sort of self-portrait?
Pausing for a moment, he admitted, "I think it was a self-portrait." Then, perhaps eager to move on, he turned to another wall with a later painting of Mr. Gonçalves de Lima, who now faces the viewer with a cigarette in hand.
Yes, Mr. Hockney, known for his feisty anti-anti-smoking tirades, admitted that he still smokes and was tempted to do so outside the museum: "I think it would be great to say I was fined $100 for smoking in Golden Gate Park," he said.
Van Gogh's "At Eternity's Gate" happens to be visible in the exhibition as well. Along with hundreds of other artworks dating from 1350 to 1900, it has been photocopied and secured to what is known as the "Great Wall"— a 72-foot-long set of panels that Mr. Hockney built in his studio as a visual aid while doing the research for his 2001 book "Secret Knowledge." The book made the sweeping case that a wide range of painters from van Eyck to Caravaggio used devices like curved mirrors and the camera obscura, which changed the course of painting in the West. Mr. Bailey said he finds the "Great Wall," which has never been exhibited before, fascinating in light of Mr. Hockney's connections to the old masters and their range of techniques.
"As he's aging, I think his understanding and engagement with art of the past only seems to be growing," Mr. Bailey said. "He has a real love of close, deep looking."
Mr. Hockney, of course, has another reason for displaying the "Great Wall": He welcomes any opportunity to advance his theory on optics, which initially proved so controversial. Some academics dismissed it for lack of historic documentation in all but a few cases, but others were more supportive, and he continues to find the visual evidence compelling. "Just look at the shadows in European paintings that became so big around Caravaggio's time," the turn of the 17th century, he said heatedly. "There were no shadows in Chinese, Japanese, Persian or Indian art. I'm sure that comes from optics," he added, noting that lenses require a strong source of light.
His interest in the technology of image making can also be seen in his iPhone and iPad drawings of the last few years, which have attracted both broad admiration and pointed criticism. The London critic Adrian Searle once wrote, "Hockney mistakes, I think, technology for modernity." (Asked about this comment, the artist replied dryly: "What is modernity? He must know more about it than I do.")
The de Young show may add to the debate with an unusual presentation: seven flat-screen TVs hooked up to display animations that show the process of Mr. Hockney drawing, one brush stroke — or more precisely, one finger-swipe — at a time.
Mr. Hockney recently discovered this "playback" function in Brushes, the application he uses for painting on the iPad. "It amazed me," he said. "I had never seen myself drawing before."
The videos include several iPad self-portraits from 2012 touching on the physical indignities of aging, like the loose folds of skin on his neck. "Picasso always said he felt like he was 30," he said. "I think I'm 30 most of the time, but sometimes I'm not."
A few show him with extra-large ears, an acknowledgment perhaps of the hearing loss that he says has affected him more deeply than the stroke, which he described as minor. "I don't go to the theater much anymore," he said matter-of-factly. "And I can't listen to music now. It's very difficult. I have a lot of music in my head now, but I'm not a consumer of it."
Nor does he travel as much. He said he was ready to return to Los Angeles and get back to work. One of his coming projects involves reviewing his own legacy, as he starts to select which of his own works will be donated to his main beneficiaries, the Tate Modern in London and the Los Angeles County Museum of Art. "Both did shows of mine in the past — Lacma did three shows — so I feel a bit of loyalty to them," he said. "And I understand they would like a few things."
His plan back in the studio is to expand his portrait series with a wider mix of sitters, perhaps using a new, slower-drying acrylic paint. "I started with friends and people who work for me, but I'm going to do some young people next," he said.
So there is no retirement in sight for David Hockney?
"No," he said emphatically, "I'll go on till I fall over."
And just a few minutes later, joined by an assistant, he left the galleries grinning like a kid: He was about to sneak a smoke.