A Review of 'Robert Smithson's New Jersey' at the Montclair Art Museum
By MARTHA SCHWENDENERMARCH 7, 2014
In December 1967, Robert Smithson published a photographic essay in Artforum magazine that would become a landmark of 1960s art. Not only did the essay, "The Monuments of Passaic," signal a shift by artists to making and showing art outside galleries — including the "exhibition" space of a mass-produced, illustrated magazine — but it also put the artist in the unusual role of writer, a position usually reserved for critics and historians. Smithson's essay was a clever combination of genres: travelogue, science fiction and philosophical tract. But it was also a poignant meditation on time and entropy (one of his favorite terms) in postindustrial suburbia.
Although Smithson treated his bus trip to New Jersey like an anthropological expedition in the essay — he was living in New York City at the time — he was a Jersey boy. He was born in Passaic in 1938 and had a true poetic pedigree: his pediatrician was the modernist poet William Carlos Williams. (Smithson once said his Passaic essay could be seen as "a kind of appendix" to Mr. Williams's famous poem "Paterson.")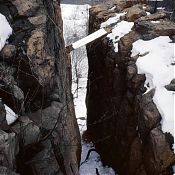 The exhibition "Robert Smithson's New Jersey" includes the piece "Mirror Span, Great Notch Quarry, Montclair, New Jersey" (1968). Credit Courtesy of James Cohan Gallery, All rights Reserved, Estate of Robert Smithson/Licensed by VAGA, New York
"Robert Smithson's New Jersey" at the Montclair Art Museum returns the artist to the area, with more than 60 works made locally or highlighting the landscapes of the state, which Smithson once said "embedded themselves in my consciousness at a very early age."
Smithson is more often associated with a movement making art in the vast stretches of the American West. Smithson's "Spiral Jetty" (1970), a 1,500-foot-long coil of mud, salt crystals and basalt rock extending into the Great Salt Lake in Utah, is a monument of earthworks, or land art. (Mr. Smithson coined the term earthworks, taking it from the title of a 1965 science fiction novel by Brian Aldiss, but land art became the accepted term for contemporary critics and art historians.) While "Spiral Jetty" is epic and remote — demanding a pilgrimage if you want to experience it beyond the famous aerial photographs — the works here are more diminutive, but often conceptually rich and complex.
Only six of the artist's photographs, taken with an Instamatic camera, were reproduced in the Passaic essay in Artforum, but 24 recent prints made from the original black and white negatives can be seen at the Montclair museum. The outtakes include photographs of a parking lot outside a Navy recruiting office, a faux-Mediterranean doorway decorated with a reproduction of a classical sculpture and crusted with Rococo-like formations, and a concrete wall near the high school athletic field with graffiti that says "Passaic Boys Are Hell!"
Opposite these images is an earlier work, "Suburbia" (1966, printed 2013), which consists of 18 photographs of banal suburban scenes — fragments, really — and has never been previously exhibited. One of the most interesting things about this piece, which is more of a posthumous Smithson, since it did not exist in this form during his lifetime, is the fact that the photographs are in color, which wasn't prevalent in the art world until the 1970s.
Although Smithson was instrumental in establishing earthworks and the photo essay as art forms, this exhibition focuses on two other genres pioneered by the artist: nonsites and mirror displacements. The nonsites consist of fabricated containers filled with rocks or sand and displayed alongside a text or map of the site from which the elements came. Smithson described their logic and effect best in a typewritten text accompanying "Non-site (Palisades-Edgewater, N.J.)" from 1968: "Instead of putting a work of art on some land, some land is put into the work of art. Between the site and the Nonsite one may lapse into places of little organization and no direction."
The mirror displacements had their own sort of manifesto in the form of another essay, "Incidents of Mirror-Travel in the Yucatan" published in Artforum in 1969. The works in this show are local, of course, and include something absent from the photographs taken in Mexico: snow. "Mirror Trail" (1969, printed 2013), a grid of four photographs, documents mirrors lined up in the snow reflecting light. Smithson's shadow crosses some of the images. The work recalls another poet, Emily Dickinson, and her poem "There's a Certain Slant of Light," which describes a more oppressive winter day than the one you experience in Smithson's photographs.
"Mirror Span, Great Notch Quarry, Montclair, New Jersey" (1968, printed 2012) was also made on a winter day, but has more of a daredevil quality: a long mirror is propped between rock plateaus in a quarry into which Smithson and his friends trespassed. Not just about reflections, the mirror displacements encompass some of Smithson's other interests, like geology, history and the idea of entropy, which he borrowed from thermodynamics (although it also exists in information theory) and once defined as "a closed system which eventually deteriorates and starts to break apart." He used Humpty Dumpty as an example, but the rest of the description easily applies to the quarried land in New Jersey as well: "And there's no way that you can really piece it back together again."
The last work here, reached by taking a kind of spiraling path through the gallery, might serve for many viewers as a memorial. "Swamp" was a 1971 film Smithson made with his wife, Nancy Holt, herself an important Land Artist. In the film, we hear Smithson directing Ms. Holt through a patch of the Meadowlands, before it became synonymous with the sports and entertainment complex built there, the camera she holds pointing mostly at the reeds and the muddy ground, creating a kind of perceptual displacement.
Ms. Holt, who was instrumental in facilitating this exhibition, died in February after battling leukemia. To many in the art world, which lost Smithson in 1973 at the age of 35 in a plane crash, Ms. Holt's death signaled the end of a certain era of art. But this show reminds you that art outlasts its creators — and even sometimes returns them posthumously to their origins.
"Robert Smithson's New Jersey" is on view through June 22 at the Montclair Art Museum, 3 South Mountain Avenue, Montclair; (973) 746-5555 or montclairartmuseum.org.