The Guardian home
JD Salinger stories published after 70 years out of print
Three early works – The Young Folks, Go See Eddie and Once a Week Won't Kill You – brought out after indie imprint finds rights still available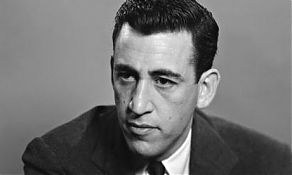 'It's unfair' … JD Salinger in 1952. Photograph: San Diego Historical Society/Getty Images
Three stories written by a young JD Salinger in the 1940s have gone on sale to the public for the first time in 70 years.
Independent publisher Devault-Graves says that Salinger's Three Early Stories is "the first legitimately published book by JD Salinger in some 50 years". The late author of The Catcher in the Rye, notoriously protective of his privacy, published nothing after the release of his story Hapworth 16, 1924 in the New Yorker, in 1965. In 1974, he told the New York Times that the release of two volumes of his uncollected short stories was "an illicit act. It's unfair. Suppose you had a coat you liked and somebody went into your closet and stole it. That's how I feel."
But, after learning of the existence of 21 stories written before the publication of Catcher in 1951 in the 2013 documentary about Salinger, publishers Tom Graves and Darrin Devault began to research rights in the stories.
They found that three – The Young Folks, Go See Eddie and Once a Week Won't Kill You – had never been registered to the author, they told Publishers Weekly. "We knew we had a shot at obtaining the rights," said Graves, "and the game began."
Their "exhaustive" search led to the acquisition of world rights, with the publishers clear that if they "stepped one inch over the line" the Salinger Trust would "nail" them, they told PW. "I can't blame them for protecting everything that is rightfully theirs," said Graves, adding that since the book was made available for sale on Amazon earlier this month, it has been investigated by lawyers, but the matter is now "settled".
The Young Folks was published in 1940 in Story magazine, a small journal. It is, said Devault-Graves, "an impressive view of New York's cocktail society and two young people talking past one another, their conversation almost completely meaningless and empty".
"About eleven o'clock, Lucille Henderson, observing that her party was soaring at the proper height, and just having been smiled at by Jack Delroy, forced herself to glance over in the direction of Edna Phillips, who since eight o'clock had been sitting in the big red chair, smoking cigarettes and yodelling hellos and wearing a very bright eye which young men were not bothering to catch," writes Salinger.
The second, Go See Eddie, was published in 1940 in a college journal, The University of Kansas City Review, and is "a tale of quiet menace as an unsavoury male character gradually turns up the pressure on a young lady to see a man named Eddie", said its publisher, adding: "the story is notable for the back story that is omitted". The third story, Once a Week Won't Kill You, was published in 1944 in Story magazine, and is "ostensibly about a newly minted soldier trying to tell an ageing aunt he is going off to war".
Graves admitted to Publishers Weekly that Salinger may well not have approved of the new book, which is illustrated. "The old man himself may not have liked what we've done," Graves told the American publishing magazine. "But we have done our best to respect his legacy and present a handsome product that would not have embarrassed him … We hope this book winds up in every library with the other Salinger classics."
The release of Three Early Stories follows the leak online last year of three unpublished short stories by Salinger. The stories, An Ocean Full of Bowling Balls – which Salinger had prohibited publication of until 2060 – Paula, and Birthday Boy, are kept in university libraries in the US, for use by scholars, but scanned versions were released online in November.
"These stories – especially the latter ones – are obviously drafts, with misspellings and odd syntactical lapses, which may or may not be a fault of the transcription," wrote Jay Parini of the stories in the Guardian at the time. "Ocean Full of Bowling Balls is fascinating work, and Salinger fans will not have to wait until 2060 to read it. The others will interest only scholars. Whether or not these stories should have seen the light of day – given Salinger's directions not to publish – is another matter."
A recent biography of Salinger claimed that five posthumous books by the author would be published between 2015 and 2020.