The New York Times
December 27, 2013
Out of the Comfort Zone
By AILEEN JACOBSON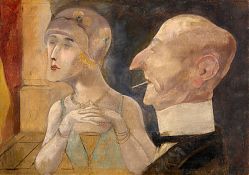 A disturbing image or a discordant style, or both, might have qualified a work to be included in "Rabble-Rousers: Art, Dissent, and Social Commentary" at the Heckscher Museum of Art in Huntington.
"The exhibition causes you to stop and think, 'Why is this piece in the exhibition?' " said Lisa Chalif, the museum's curator. In some cases, she said, a work that was revolutionary when it was made now looks tame. However, texts accompanying the 25 prints, photographs and paintings on display — all from the museum's permanent collection — help to explain why each is there.
The two etchings by James Abbott McNeill Whistler that start the exhibition focus with gritty realism on dockworkers on the River Thames in London. The working-class subject matter was new in the mid-1800s, when Whistler produced "The Pool" and "Black Lion Wharf," Ms. Chalif said. But the images also indicate Whistler's grasp of a then-modern scientific understanding of how human vision works, with details shown in the foreground and background, while the middle distance, where the eye sees less clearly, remains nearly empty.
The next three pieces, etchings by John Sloan, contain even grittier content and created controversy in the early 1900s, according to the texts. "Girl and Beggar" was described by the artist as picturing a "streetwalker" and a "cripple," not deemed fit subjects by many viewers. "Hell Hole" depicts hard-drinking patrons in a Greenwich Village bar — the playwright Eugene O'Neill among them.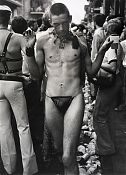 Other images can still be a little jolting. "Nude with Red Hair," an undated painting by Arthur B. Carles, shows the influence of European painters like Cézanne, Matisse and Picasso, whose work Carles encountered in Paris "before their art shocked the American public at the Armory Show in 1913," according to a text. Carles's "exuberant palette of high-keyed, unnatural hues" was in line with some of the paintings in the fabled Manhattan exhibition that revolutionized American art 100 years ago.
"Ten Independent Artists/Solomon R. Guggenheim Museum," a 1971 poster by Red Grooms that Ms. Chalif placed near the works of Carles and two other Armory-connected artists, was used to advertise a different pivotal exhibition. In the circuslike lithograph, she said, Grooms demonstrates his distinctive Pop Art style.
Another Pop artist in the show is Larry Rivers, whose 1974 silk-screen, "Living at the Movies," includes a few sexual references among its images. At least as provocative, "Mardi Gras, New Orleans," a 1975 photograph by Leon Levinstein, shows a glowering young man, nearly nude, in what appears to be S&M garb. "I love this photograph," Ms. Chalif said. "The attitude, the demeanor of the figure expresses a way of life that many people are not comfortable with."
Other images with discomfiting social commentary, Ms. Chalif said, include "(Man and Woman)," an undated painting by George Grosz, and two photographs of well-dressed partygoers by Larry Fink. Grosz (1893-1959), represented by two other works in the exhibition as well, was a leading German painter of the 1920s who later moved to Huntington and taught art classes at the Heckscher. Mr. Fink is a highly regarded photographer who grew up in West Hempstead and now lives in rural Martins Creek, Pa. Grosz and Fink, Ms. Chalif said, both display negative views of members of the bourgeoisie.
"I certainly had a critical bent, a left-wing stance," Mr. Fink said in a telephone interview of his intent when he took the photographs, part of a series called "Social Graces," first exhibited at the Museum of Modern Art in 1979.
"New York City, May 1977," in which a woman sitting at a cocktail table stares into space, and "English Speaking Union, New York City, December 1975," in which a woman looks blankly over the shoulder of her dancing partner, show "people who are very, very bored," he said, adding, "It was sad that they were so bored."
At the time, he said, he and many fellow artists "felt we could effect political change" through art. Though they didn't succeed and "the world is a mess," Mr. Fink said, he still believes in rabble-rousing and is proud to be part of the show.
"Big Daddy Paper Doll," a 1971 serigraph by May Stevens, is among the more overtly political pieces in the exhibition, Ms. Chalif said. The artist, who has called her "Big Daddy" series "anti-establishment," shows in this one a male figure like a paper doll surrounded by four outfits he might wear: butcher, policeman, soldier and executioner.
In contrast, Robert Rauschenberg's political intentions in his 1977 "Chow Bag Series" are ambiguous, Ms. Chalif said. Four silk-screens with collage and hand stitching from the series are on display, featuring the checkerboard grid of Purina pet food bags and pictures of animals — rabbits, a cow, monkeys and a mink — as well as other images. Some people believe that the pieces show his support for animal rights, she said, but there are also images of a rowboat, a car, a tractor, a satellite and other items. "A lot of different things are going on in his works," Ms. Chalif said.
The exhibition ends with two photographs by Barbara Roux, who addresses ecological issues. Her 1998 images "Night Rise Up" and "The Trees of the Dark Forest" show tree stumps on which she has written messages. In "Dark Forest," she wrote, the trees "grow slender and are easy to sever."
Like Mr. Fink, Ms. Roux, who lives in Lloyd Harbor, said by phone that she liked being considered a rabble-rouser. "I don't see myself as terribly political, but I have always seen myself as an environmental activist on a small local scale," Ms. Roux said. "In my own quiet way, I try to get people aroused about the land and small animals and trees that have no voice."
"Rabble-Rousers: Art, Dissent, and Social Commentary" is at the Heckscher Museum of Art, 2 Prime Avenue, Huntington, through April 27, except March 17 through 28, when the museum will be closed. Information: heckscher.org or (631) 351-3250.
More in N.Y. / Region (19 of 42 articles)
Arts | New Jersey: Exploring the Science in Football
Read More »