Global Citizens, Bound by Soul and Sinew
'Pawel Althamer: The Neighbors'
HOLLAND COTTER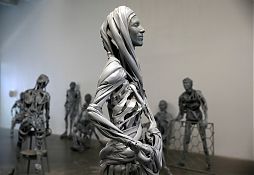 Suzanne DeChillo/The New York Times
After passing through galleries filled with small, craftsy, poetic objects in last year's Venice Biennale, you suddenly had a Dante moment in an installation of life-size figures by the Polish artist Pawel Althamer.
In the months leading up to the biennale, Mr. Althamer had been busy making casts of faces of Venetian citizens — bankers, shopkeepers, immigrant workers — whom he met on the city's streets. He then attached these faces to half-abstract, highly stylized bodies made from strips of soft plastic stretched and draped over skeletal frames.
The collective impact — there were 90 figures in all — was dramatic and purgatorial. The plastic ribbons suggested raw sinews, or bandages, or loosened grave wrappings. It was as if the figures of the dead carved on tombs in Venetian churches had come to life, finally to disintegrate or be made whole. Walking among the sculptures at the Biennale was like joining an army of Lazaruses united by citizenship and mortality.
These Venetians are now in New York. They're part of the exhibition "Pawel Althamer: The Neighbors," a stirring career survey of the artist's work that occupies most of the New Museum and is very much about both community and impermanence.
The earliest works focus on Mr. Althamer, who was born in Warsaw in 1967, grew up under Communism, came of age as an artist in a post-Berlin-Wall Europe, and had an art education that was both old school and avant-garde, and in touch with popular culture. In his 1993 sculpture "Self Portrait," he depicts himself nude and staring blankly ahead from behind wire-rimmed glasses.
While seeming straightforward, it's a complicated image. Although classically proportioned — Mr. Althamer has clearly studied Greek sculpture — it's as much a Frankenstein's monster as an Apollo. The body, molded from vegetable fiber soaked with wax, is anatomically detailed but looks stuffed and sutured, taxidermied.
So does a 2001 sculpture called "Weronika," a portrait of the artist's young daughter that has patchwork skin and a real human skull, wax-covered, for a head. The effect would be morbid but for the child's delicate gesture: With one hand she holds out a stick that has a single bird feather suspended from the end and twirling with any passing breeze.
Both figures are products of anatomy class, but "Weronika," petite and sweet, also has roots in the toy shop. For several years after art school, Mr. Althamer supported himself and his young family partly by making and selling dolls and puppets. You see that craft history everywhere.
In "Self-Portrait in a Suitcase," from 1996, we find the artist, a foot or so tall, sitting in a scruffy portable apartment. In the panoramic 2010 "Mezalia," a collaboration with Paulina Antoniewicz and Jacek Taszakowski, he appears again, doll-size, staring out a window at a bucolic landscape and fantasized scene from childhood, with the skyline of Warsaw beyond.
Beyond — beyond self, beyond country, beyond conventional limits of art — has always been a prime destination for Mr. Althamer. For a series of 2003-4 videos, "So-Called Waves and Other Phenomena of the Mind," he had himself filmed by the artist Artur Zmijewski while tripping on LSD and undergoing hypnosis, trying to push past fixed edges of ego.
A continuing quest to move out from the self, without relinquishing it, has led him to adopt collaboration as a preferred modus operandi, and to celebrate, with shadings, the notion of community as an existential and aesthetic ideal. Along these lines, in the early 1990s, he took a job teaching ceramics to a group of physically and mentally disabled adults in Warsaw. And even when the job officially ended, he kept the workshop, called the Nowolipie Group, going, serving as both leader and participant, teacher and learner.
For Valentine's Day weekend, our nine favorite videos about love.
Mr. Pawel has also brought his organizational impulse to bear on the residents of his lower-middle-class neighborhood, Brodno, on the outskirts of Warsaw. Under an umbrella project called "Common Cause," he has worked with them to turn a run-down park into a sculpture garden. Together, they've developed plans to reimagine a high-rise as a giant spaceship. As a warm-up to that transformation, Mr. Althamer has taken groups of neighbors to Mali and Brazil to study out-of-the-ordinary architecture.
Despite its group dynamic, "Common Cause" is not collective in the old Communist sense. There's a large dose of Dada at play. When group members travel, they dress in gold cosmonaut jumpsuits, a uniform that blazingly brands them outsiders, foreigners, but makes foreignness a gentle joke, and even offers a possible identifying look for a new and universal population of global citizens.
As amusing as these exercises in team spirit are, they can be pointed toward specific political ends. To protest a neo-Nazi rally in Warsaw in 2010, "Common Cause" members arrived on the scene dressed in dangerously provocative outsider attire: striped uniforms similar to those worn by World War II concentration camp prisoners.
Mr. Althamer's survey can go only so far in engaging with the political realities of New York, though it gestures in that direction. He has paid a steady succession of New York street musicians to play gigs in the New Museum lobby during the exhibition. And he has instituted a coat drive to benefit residents of the Bowery Mission, a shelter for homeless men that is the museum's immediate neighbor. (Anyone donating a coat will receive free admission.)
Finally, he's trying to pull in new audiences with a participatory workshop called the "Draftsmen's Congress." It's in a big gallery, where the walls and floor are blank-canvas white, and boxes of paint and chalk lie around. Anyone who visits can get right down to business, drawing, painting, tagging, whatever, wherever.
When "Draftsmen's Congress" had its debut in Berlin in 2012, it was a hit. (That admission was free there probably helped.) Walls and floor were soon covered edge to edge. They were also filling up fast at the New Museum the day I visited, largely thanks to a group of students from the nearby New Design High School. And this was before the show, organized by the New Museum curators Massimiliano Gioni and Gary Carrion-Murayari, had even officially opened.
Is this sort of making-art-in-a-museum a new idea? No. Been done, and done, and I basically found the idea lame. Are the results "good" art? The question doesn't mean much, since the method of production — multiauthored and overlaid — renders traditional criteria of values irrelevant. And anyway, with the possibility of periodic whitewashings during the run of the show, to provide fresh surfaces for new artists, whatever is there today is likely to be gone tomorrow.
Mr. Althamer's devotional, almost religious embrace of ephemerality — faith in it, really — is the element of his art I like best. He seems to keep saying, one way or another, that what counts about art is that people keep doing it, preferably in positive forms, preferably by working together. And whatever emerges from this process — sculptures made of grass, people planning a park, street musicians singing — like the creators themselves, eventually goes away, but is also replaced.
It's almost as if he were proposing art as the universal binder, the great leveler, a form of social and spiritual — he's not afraid of that word — salvation. And going from his early naked-in-the-world self-portrait, to his epical, between-heaven-and-hell Venetians, to the sight of dozens of New York City students avidly adding their mark to a gallery wall, I could almost believe him. Art has wide arms.
But when I left the show and stood on the sidewalk, I took a quick look around. A little to the right, I saw a long line of men standing in the cold night outside the Bowery Mission, waiting for a meal. To the left, I saw a crowd of stylish people, mostly young, chatting and waiting for tickets in the New Museum's bright lobby. These images had no connection. These neighbor institutions, like life and art, are still a million miles apart.
"Pawel Althamer: The Neighbors" runs through April 13 at the New Museum, 235 Bowery, at Prince Street, Lower East Side; 212-219-1222, newmuseum.org.