November 28, 2013, 2:40 pm
Salinger Stories 'Leaked' Online
By RANDY KENNEDY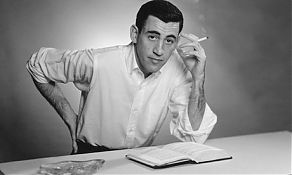 Three previously unpublished short stories by J. D. Salinger have appeared online for the first time, apparently after an unauthorized edition of the stories was sold on eBay and its pages scanned and uploaded, Buzzfeed reported.
The stories —"The Ocean Full of Bowling Balls," "Birthday Boy" and "Paula" — seem to have been copied from original Salinger manuscripts held by the Princeton University Library and the Harry Ransom Center at the University of Texas and published in a 25-copy edition privately printed without Salinger's approval in London in 1999.
A copy of that edition was sold on eBay in September for 67 British pounds (about $110 at the time), and on Nov. 27, a commenter on the social news site Reddit announced that the stories had been "leaked" onto an invitation-only music file-sharing site. Before the end of the day they had found their way onto the wider Web, on the photo-sharing site Imgur and elsewhere.
In an article in The Los Angeles Times, the book critic David L. Ulin wrote that he had read two of the stories — "Birthday Boy" and "Paula" — in the collection of the Ransom Center and could vouch for the authenticity of the versions posted online. Kenneth Slawenski, a Salinger scholar, told Buzzfeed that he had read those two stories as well as "The Ocean Full of Bowling Balls" — a story about the final day in the life of Holden Caulfield's younger brother and so a precursor of sorts to "The Catcher in the Rye" — and also believed that the versions online were accurate copies of the manuscripts.
The appearance of the stories would undoubtedly have enraged Salinger, who died at 91 in 2010 and worked very hard during his lifetime to prevent people from publishing anything he had written (or conceived) that he didn't want published. Unauthorized copies of his published but uncollected magazine fiction have circulated like samizdat for years, but the existence of the edition of the three unpublished stories was not widely known until now. A new film and book about Salinger this year claimed that he instructed his estate to publish at least five new books beginning as early as 2015. Salinger's family has declined to comment on that claim.