'Tell them everything,' he said… David Croland on Robert Mapplethorpe
Shocking and excessive, certainly. But arch provocateur Robert Mapplethorpe was also very sweet and very shy, according to his first boyfriend, who shares his memories and their personal photos here for the very first time
Sarah Morrison
Sunday, 8 September 2013
'Sweet' is not a word used often to describe Robert Mapplethorpe, a man renowned for depicting New York's underworld of erotica and sadomasochism, and for being one of the most notorious photographers of his generation.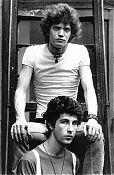 "Controversial" is more common; "excessive", almost mandatory. His life is usually summed up with the help of a few well-known touchstones: Patti Smith, his soulmate. The Chelsea Hotel, their digs. Sam Wagstaff, art curator and his long-term partner. Andy Warhol, whom he admired. Drugs, which he took. His art, which he "refined". And finally his death, in 1989 from complications arising from Aids. But beneath this oft-told narrative, lies an all-but-untold tale: that of a serious – and yes, "sweet" – young artist who fell in love with his first male model, David Croland, in his early twenties.
The pair, who had both identified predominantly as straight until then, went on to date for three years. Croland was Mapplethorpe's first "official" boyfriend and the pair met when the photographer was still with Patti Smith. The well-connected model, who had dated Warhol acolyte Susan Bottomly, introduced Mapplethorpe to a whole new crowd. They socialised with New York's top designers, models and art curators. And it was Croland who introduced Mapplethorpe to Wagstaff.
Croland has never shared the details of his story, until now. "Robert discussed this with me before he died and he said: 'Tell them everything,'" Croland says. "I said [then], 'I'm not telling them everything. I'm not telling myself everything. I'm not telling anyone everything. What would be left to tell if you told everything?'"
But now he has changed his mind. "What I believe he meant was: keep me alive; keep my memory alive," Croland says.
In a few weeks' time, he will do just this. He has co-curated Fashion Show, a new exhibition of Mapplethorpe's work at the Alison Jacques Gallery in central London. It will showcase his portraits of some of the most iconic figures in the fashion world, from Karl Lagerfield to Grace Jones, as well as his hand-crafted jewellery and intimate pictures of Croland. Many of the works have never been seen before.
It is more than 40 years since Croland first met Mapplethorpe in his room in the Chelsea Hotel, but his memory hardly falters: "We had that thing from the minute we saw each other, that's for sure," Croland drawls, in his relaxed East Coast accent. "I remember that the room was about as big as your foot. You could barely turn around in it, so we were pretty close on first sight. He and Patti were very much dressed alike. It was very hot, and I think they were wearing white shirts, jeans, and sandals.
"Both of them were very sweet, very shy and observant. They both had these extraordinary eyes you looked at while they were looking at you. They were beautiful – both of them."
It was only a matter of days before things turned romantic. "We were out one day, visiting a friend uptown. We were kind of sitting together on a coach, then all of a sudden, like in a movie, our hands touched; there was a bit of spark. And then we did it again, outside. Our hands touched again and then, well, that was that. So it was confirmed. It was very sweet."
From then on, the pair were boyfriends (although not exclusive). Croland insists that Mapplethorpe "wasn't the jealous type at all" and adds that if he ever felt any possessive pangs himself, he could "certainly turn the table". Describing himself as probably the "more old-fashioned" of the two, he tells me that the duo "never laid down any rules in our relationship; no way. It was a different time. Bisexuality in those days was very in fashion.
"We were alone in my apartment a lot. In the daytime, both Robert and I slept in. What we talked about mostly were the people we spent time with. I knew them and he wanted to connect the dots a little," says Croland. "And then Robert worked a lot and I was there being the first male subject that he photographed."
Smith, who lived with Mapplethorpe throughout, describes in her memoir Just Kids how she discovered the two had become a couple – a friend called and told her they were having an affair. While she says she was "stunned", she also writes that she liked David and "was involved in so many things that the concern of Robert's sexual preference was not [her] immediate concern".
As for Croland, he says that he and Smith never talked about his and Mapplethorpe's relationship, nor did they hang out. When asked if Mapplethorpe and Smith were also sexually involved at the time, he says only that they had a "strong relationship. They always loved each other. She's definitely the female love of his life, there's no doubt about it." He also believes that Smith "kind of enjoyed the fact that Robert was starting to flourish, and that his art was getting more and more accessible to people".
This was largely because the pair were socialising with the elite of New York's art and fashion world. Whether it be the fashionistas Marisa and Berry Berenson, or curators John McKendry and Henry Geldzahler, it was a world Croland remembers as a "lot of fun". Sometimes, however, he felt protective of Mapplethorpe: "I was used to that crowd, but he wasn't, so he was dazzled by that group of glamour girls, art and fashion people and I found it terribly sweet."
While he holds his former friends in high regard, looking back on parties hosted by the likes of Yves Saint Laurent, he also says that their world was "without a doubt an admiration society". He worried about Mapplethorpe when he went on his European tour because "people were wildly attracted to him". Not because Croland was jealous, he says, but because Mapplethorpe was "trying to make a name for himself while at the same time being objectified; trying to get people to take him seriously while they were just trying to have sex with him".
While he believes that he and Mapplethorpe helped enhance the visibility of the queer community, he adds that it also caused difficulties. "One thing about being young and looking that way was that people had a tendency to want to pull you apart," he says. "They're not sitting there applauding that you're together. They're like: 'I want you, or I want you, or I want you both.' That was something I didn't enjoy."
Croland introduced Mapplethorpe to Sam Wagstaff around the time that they were breaking up. The curator had originally been introduced to the model, but after Croland gently rebuffed him and showed him a picture of Mapplethorpe in a French beret, he was struck. Croland refused Mapplethorpe's request to join the pair on their first dates. "I don't like threes; it's not one's favourite number," he says.
It was then that their lives started "running in other directions", but Croland never stopped appreciating Mapplethorpe's work. "No matter what he was photographing, it was always elegant. Whatever was put in front of him, he formalised. The subject always became iconic."
Some of the more sexual portraits of Croland will appear in this month's exhibition – one showcases him in see-through underwear; another displays him gagged. Despite refusing Mapplethorpe's request to take any more explicit shots, Croland says he always enjoyed being photographed by him. "I was a model; I knew how to move and Robert knew how to move me," he says.
Croland thinks now is the "time to piece [Mapplethorpe's] career together and not just think of him as one type of artist". He might have been the photographer who took raw portraits of naked men, but he also loved high-end fashion, he says. "Robert loved glamour, and he loved elegance," he adds. "These pictures [on show in the exhibition] have to do with putting on display the best of the best."
The former model has since become an illustrator, working for magazines including Vogue and Harper's Bazaar. I ask him whether he always knew Mapplethorpe would make it. "I knew from the beginning that he didn't need to try to make it; that his work was already made," he says. "I knew it from the second I saw the work; it was authentic. Everything was authentic with Robert; he was very sincere and honest and pure about it. Most things are fake; there's real fakes, and there's fake fake. Robert was real real."
'Robert Mapplethorpe: Fashion Show' is at Alison Jacques Gallery (alisonjacquesgallery.com), London W1, from Wednesday